Easy How to Draw a Girl Tutorial Video and Little Girl Coloring Page
Below you'll find an easy step-by-step tutorial for how to draw a Girl Tutorial Video and a Girl Coloring Page. This one is perfect for those just learning how to draw bodies.
Girl Tutorial Video
Children learning how to draw, particularly when it comes to bodies, sometimes just need to see some an example of how clothes can look, and how arms and legs are attached to them. This one shows just one way to draw a girl, wearing a simple dress and her hair up in pigtails. The dress eliminates the need to draw two pieces of clothing (like a top and pants) and provides an easy place to get more creative too. As in adding a pocket or two.

You can also see How to Draw a Boy which shows a child in shorts and tee shirt. Girls that prefer to draw themselves in shorts, but might want see how pigtails are added, could use a little of both projects. Children who enjoy drawing pictures of themselves will always benefit from having more options and ideas to choose from.
Preview of the Step by Step Girl tutorial
Girl Coloring Page
Girl Tracing Page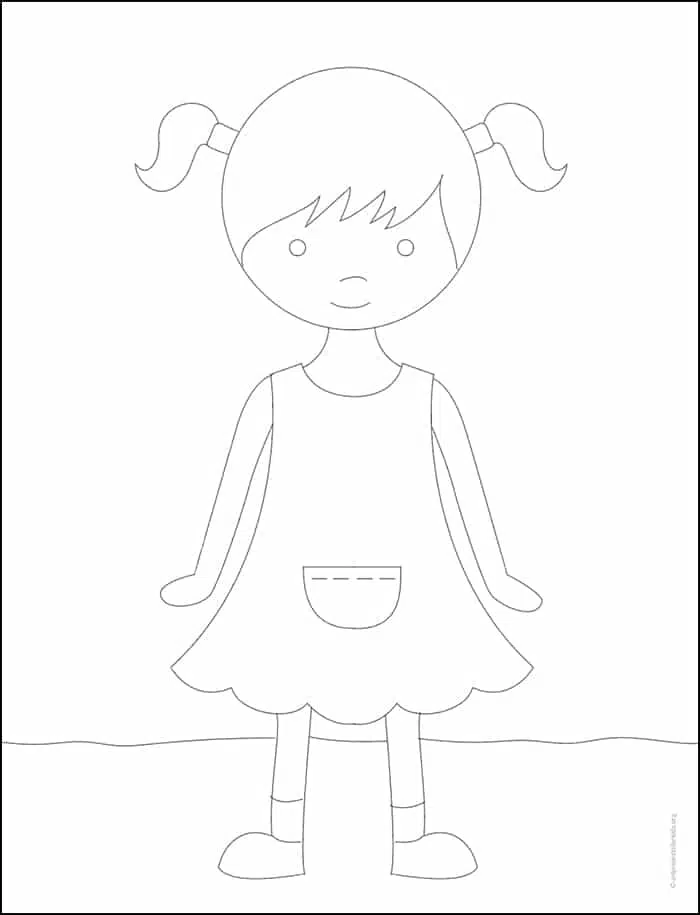 Drawing Pictures Materials
Drawing Paper. This is the good stuff you can buy in bulk for a good price.
Pencils. I like how this brand always makes nice dark lines.
Black Marker. A permanent marker will give you a dark black color.
Note: All of the above are Amazon affiliate links.
Girl Drawing Easy Directions
Time needed: 30 minutes
How to Draw a Girl
Draw a circle for the head.

Add a hair line with bangs.

Draw eyes, nose and a mouth.

Add two pigtails.

Draw a neck and simple dress.

Add two legs and feet below.

Draw two arms.

Add a pocket and ground line.

Trace with marker and color.
How to Draw Boys