Easy How to Draw Doodles with Your Name Tutorial
Learning how to draw a doodle gets easier when you start with a step by step tutorial. It's fun when you make it all about your own name.
Doodle Name Art
Doodling basically means to make a drawing without thinking about it too much. No special skills are needed, just an interest in making a cute and fun drawing.

This project focuses on turning a name into a doodle by adding a fun outline and then simple decorations. It's easy for students of all ages, so even beginners can join in on the fun. If students can write their name with stick letters, they can learn how to turn their name into a doodle.

It's also easy to customize, so those that would like to make more, might get some inspiration with other simple words.
How to Make Block Letters
If students have not made block letters before, that's no problem. The step by step instructions show the best way to make one. A letter needs to first be drawn lightly with a pencil, traced around the outside, and then erased on this inside. This is especially helpful for some of those curvy shaped letters.
Decorating your Name
Once you have nice large block letters in place, the fun begins. The entire name gets an extra outline, so that another ring of color can get added. Lastly, a series of simple bubble shapes are added all around. They can vary in size, and attach to the name and to each other. If either side looks a little visually unbalanced, add or remove bubbles to fix the problem.
Finishing the Drawing with Markers
Students trace the drawing neatly with a pen or marker, and erase any extra pencil lines. If they have extra time and space, they could add some other simple doodles of their own creation around the outside.

When it comes to coloring, the best markers for elementary school children, in my opinion, are the Stabilo Power Wallet Brand. You can buy them on Amazon, or in some art supply stores. They come in a wonderful array of colors, have a nice tip that colors well, and are even said to last for quite awhile with the cap off. And we all know how valuable that is when working with busy classrooms.

Years of experimenting with lots of other brands always left me disappointed. Once I found the Stabilo brand, which I think is based in Europe, I never looked back. And that's my full unaffiliated endorsement.
Subscribe to "The Daily Draw" below to get this free download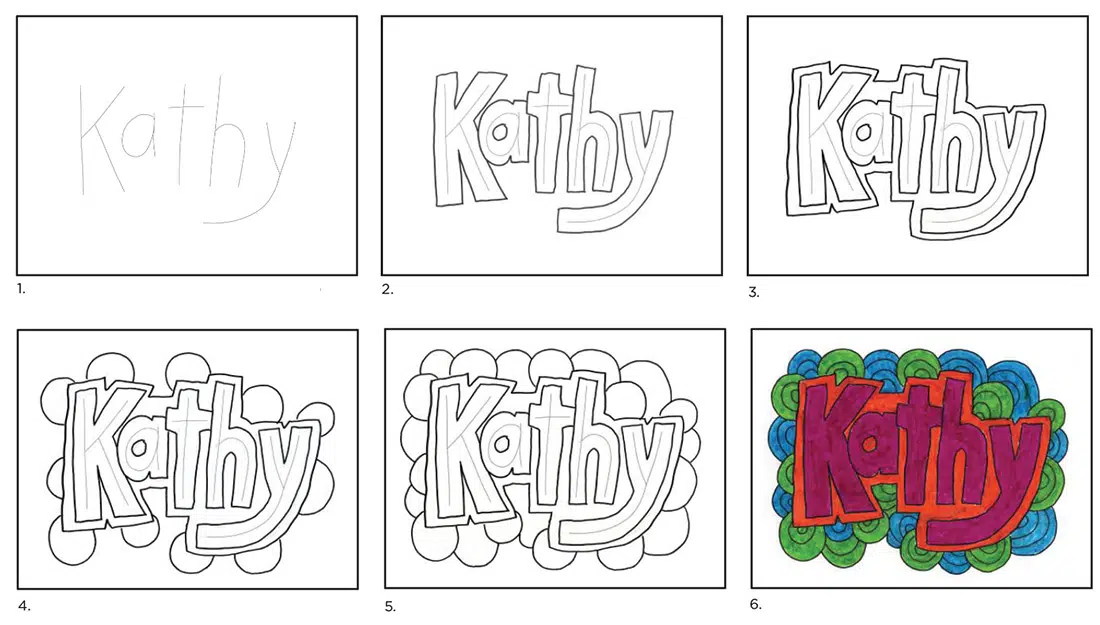 Materials to Doodle your Name
Drawing Paper. This is the good stuff you can buy in bulk for a good price.
Pencils. Don't waste your money on the cheapest brand. These make nice dark lines.
Black Marker. A permanent marker will give you a nice dark black color.
Stabilo Markers. I love this brand! They have amazing color selection and the perfect ends to color with. Not too fat, and not too thin, just right.
Note: All of the above are Amazon affiliate links.