Easy How to Draw like Gustav Klimt Tutorial
Learning how to draw like Gustav Klimt gets a whole lot easier to do when you start with metallic markers and black paper.
Gustav Klimt was an Austrian symbolist painter and one of the most prominent members of the Vienna Secession movement. He is known for his paintings, murals, sketches, including portraits and landscapes.
Klimt had in the early 1900's what some call a "golden phase" in his career. It was named for his love of metallic paint, and his critical success at the time for paintings like the Portrait of Adele Bloch-Bauer I (1907) and The Kiss (1907 – 1908). His trips to Venice and Ravenna, both famous for their beautiful mosaics, most likely inspired his gold technique and his Byzantine imagery.
Today students that are learning about Gustav Klimt can try out his style of abstract decorate art with the help of some easy-to-use metallic markers. Drawing with them on dark paper makes it easy to create lots of details, and the colors will just pop off the page. Trying to paint Klimt's curly "Tree of Life" drawing would take lots of dexterity with a brush, but drawing one with thick markers is a walk in the park.
Use Button below to download a PDF Tutorial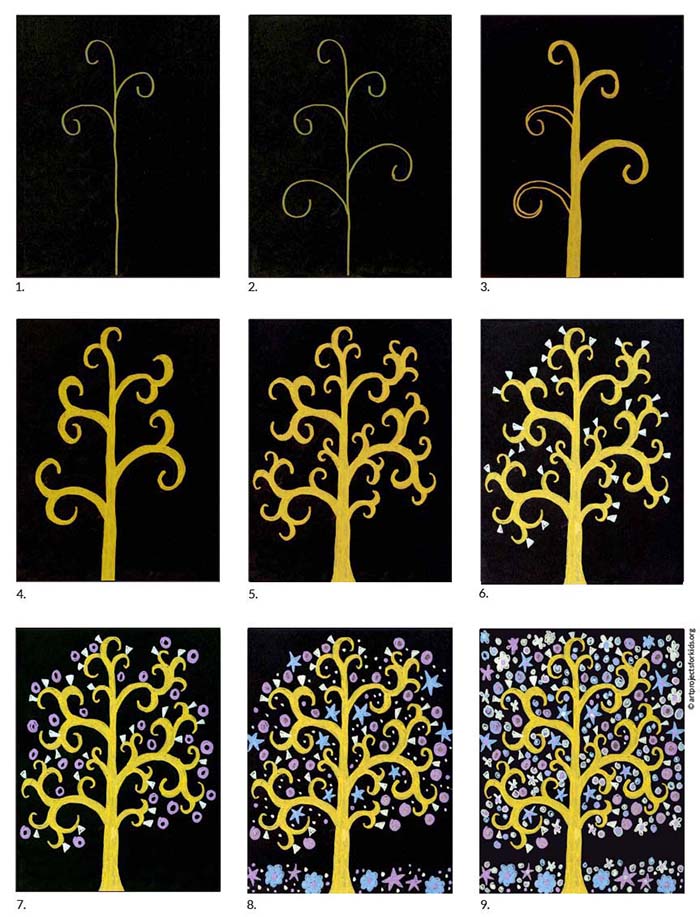 How to Draw like Klimt Step by Step Materials
How to Draw like Klimt Directions
How to Draw like Gustav Klimt
Draw a line with 3 curls at the top.

Add 2 larger curls below.

Turn each curl into a thick branch and fill with color.

Add an opposite curl to the end of each branch.

Fill in any empty spaces with smaller curls.

Draw abstract triangle leaves all around the branches.

Add lots of round circle flowers.

Fill in spaces with stars and dots. Start the grass with the same.

Keep adding shapes until it feels finished.