Here is one of my most popular cardboard art projects from one of my after school classes. Great for learning how to make forms from shapes.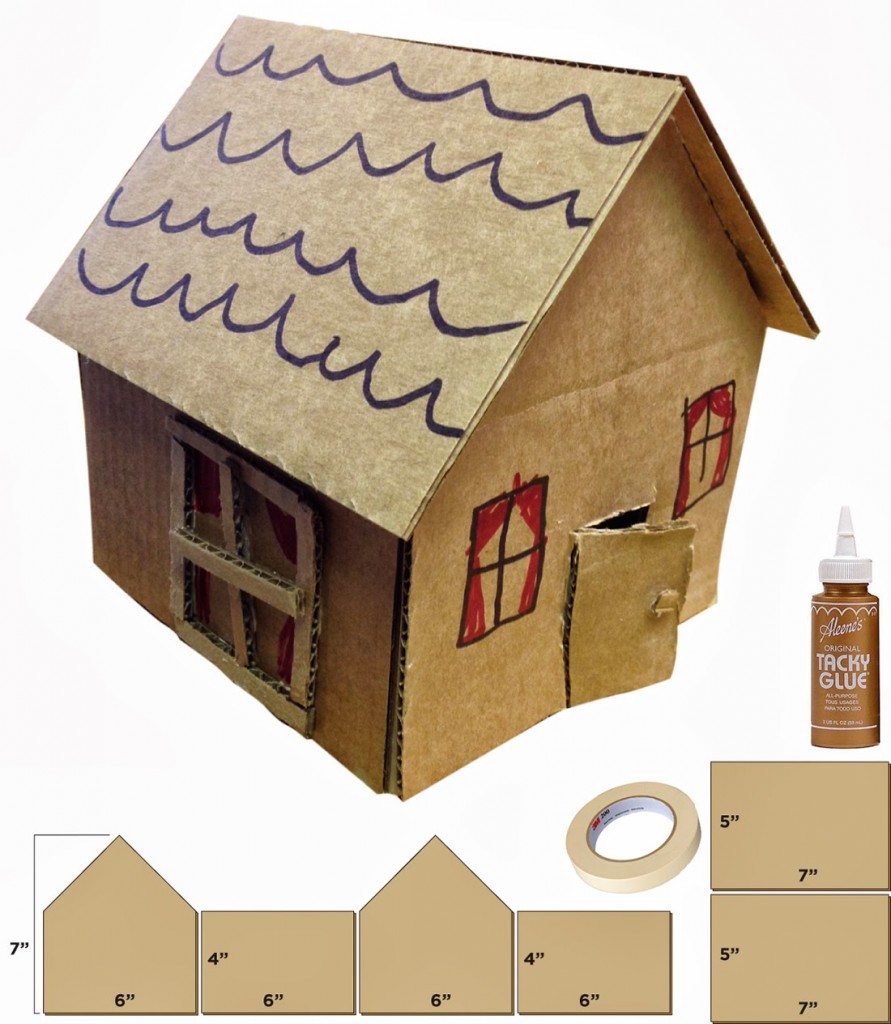 It takes some time to precut the pieces for little ones, but they have a ball "building" their own little house afterwards.
MATERIALS
Corrugated cardboard, 12″ squares (I found mine at a local Box City)
Paper cutter
Craft glue
Sharpie markers
DIRECTIONS
I found clean corrugated cardboard boxes and precut the 6 pieces for each student as shown above. A big old chopping-style paper cutter is the best way to go.
Students used masking tape to tape the four sides together.
The two roof pieces were taped together. Tacky glue was applied to the side tops, and the roof was placed on it. The tacky glue really works so great as it goes on thick and keeps pieces from sliding around too much.
Students used scraps of cardboard to make window and door details, and then added decorations with Sharpies.
When my students made these tree houses, they got so involved in decorating them they worked right through the last minute of class.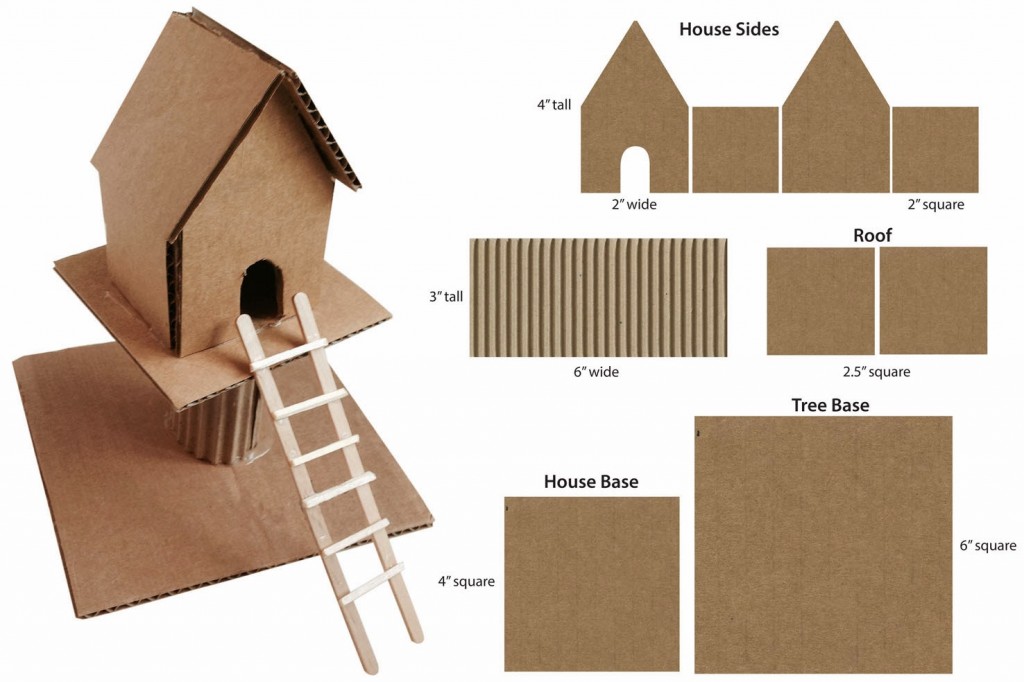 MATERIALS
Cardboard
Paper cutter (heavy duty type)
Corrugated cardboard
Craft sticks (narrow and long type)
Match sticks
Craft glue
Masking tape
NOTE: There was a bit of prep work for this, but on the bright side my only costs were masking tape, craft glue, and popsicle sticks as I found old boxes for the cardboard. I used an old-fashioned paper cutter to precut all the cardboard pieces and place all of them bags to make little "kits".
1. Students used masking tape to tape the sides of the house together. They taped the roof across the top seam and glued it on top of the house. The tree roll was stapled as a roll, and glued to the tree base. Lastly the house base was glued to the top of the tree.
2. Michaels sells a variety of wood craft sticks these days, which makes for several ladder choices. I used some new narrow ones for the sides and what are called "match sticks" for the steps. I recommend using Alene's Tacky Craft Glue for everything as it is thick and sets up in about 10 minutes.
I've found that if I just pre cut some house shapes for a corrugated cardboard craft class, students as young as kinder can easily "build" something and learn how to construct and decorate a house.

This adorable house was made by a talented kinder named Audrey. I believe she is six years old but has the focus of someone twice her age.
MATERIALS
12″ x 12″ corrugated panels found at my local Box City store
An old-fashioned paper cutter, one that has an arm that slices up and down
Ram tape, also found at my local Box City
Black chisel tip Sharpie markers
Tempera cake paints
Brush and water
DIRECTIONS
PREP: Precut cardboard into side panels that are 12″ x 5″ and 9″ x 5″. Cut the 12″ to have angles that come down 9″ on the sides. Cut roof panels that are 6″ x 4.5″. If you have a large class, try pre-tearing strips of tape and collecting them on plastic binder sheets.
Students line up their side panels and tape them on one side with the Ram tape.
The cardboard is turned over and the house details are drawn with the Sharpie.
The house is painted with tempera cake paints.
Students tape their roof and draw tile lines on it.
Stand the house up and tape the last sides together, hopefully on the inside to hide the tape.
Rolls of tape are stuck on the angled sides on the top of the house, and the roof is placed on top.
Here's what I did recently for an after school cardboard house project. Students built and decorated their house over five weekly classes.

I bought lots of 12″ cardboard squares from my local box company, and precut the panels so all the kids had to do in the first class was tape, tape, tape. They loved it! I had a room full of kinder through 3rd graders who happily assembled their houses for a full 45 minutes.
My diagram for how I made the most effective use of all my 12″ cardboard squares is shown. For the curious, I paid about 30¢ per panel, and used about 3 for each student.
Next week, I will have lots of scrapbook paper cut to size so students can easily wallpaper the background. Can't wait to see it, check back for more details.