Here's how to draw a Pterodactyl that features his wing span, which could be up to 30 feet wide. That's much larger than any flying birds alive today.

This prehistoric creature is made with lots of odd shapes, so be sure to fold your paper three times first to get the creases shown in my dashed lines. It will really help you make your drawing fill the page and make your pterodactyl look more fierce too. And isn't that the point of drawing one?
If you like this tutorial, I have many more like it in my "Draw Dinos and Dragons" ebook in my PDF Shop.
MATERIALS
Drawing paper
Black marker
Crayons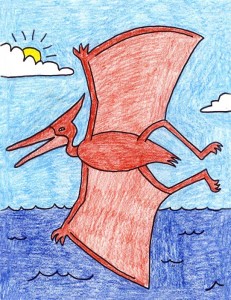 DIRECTIONS
Prep: Print tutorial for each student.
Draw guide lines on paper or fold to make creases.
Follow the tutorial to draw the Pterodactyl in pencil.
Trace the pterodactyl with a black marker.
Color him (or her) carefully with crayons.