Easy How to Paint a Pagoda Tutorial
Color this easy pagoda drawing with water based markers, brush with water, and you have a lovely painting with lots of texture.
The origin of the pagoda can be traced to the stupa (3rd century BCE). The stupa, a dome shaped monument, was used as a commemorative monument to house sacred relics and writings. In East Asia, the architecture of Chinese towers and Chinese pavilions blended into pagoda architecture, eventually also spreading to Southeast Asia. Their construction was popularized by the efforts of Buddhist missionaries, pilgrims, rulers, and ordinary devotees to honor Buddhist relics.
Painting a pagoda with watercolors can be a bit tricky. Those lines on the roof are pretty important but could be hard to do with a brush. The solution? Draw them with a blue water-based marker so students can control the lines a bit better, and then brush lightly with water to create a painterly look.
Use Button below to download a PDF Tutorial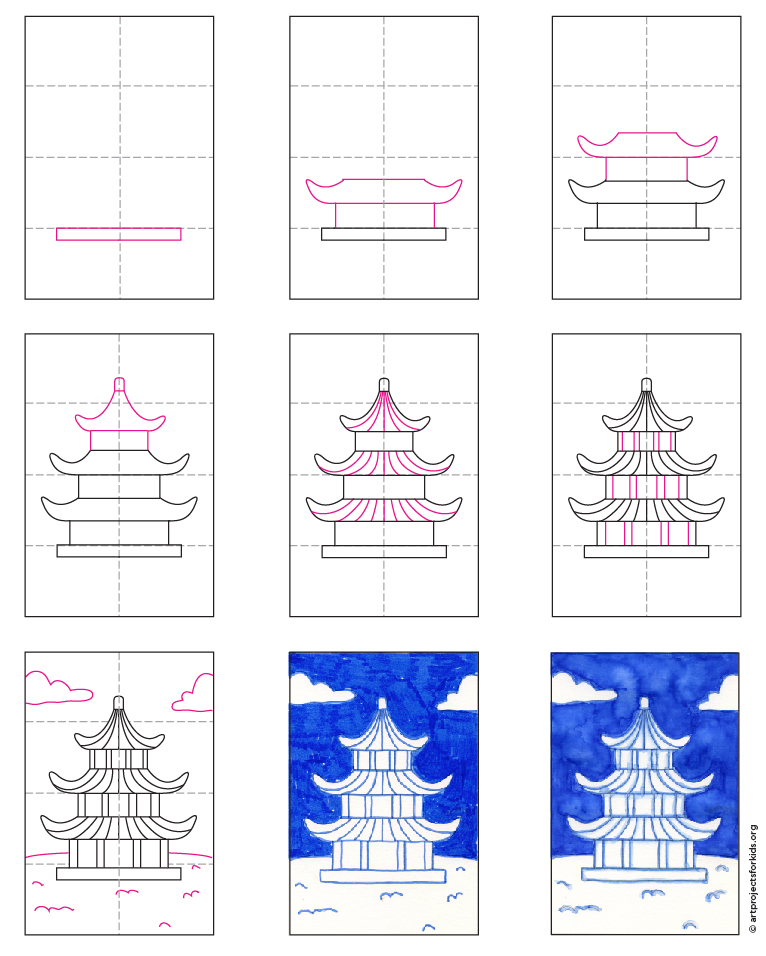 How to Paint a Pagoda Step by Step Materials
Watercolor paper, 9″ x 12″

Markers, water based (not permanent!)
How to Paint a Pagoda Directions
Time needed: 1 hour.
Easy Pagoda Painting
Make guidelines. Draw a rectangle.

Draw one floor with roof above it.

Draw another floor that is not as wide.

Draw another floor on top is smaller still.

Add curved lines to all roof shapes.

Add vertical lines for posts on each floor.

Add horizon line, grass and clouds.

Trace and color with a blue water based marker.

Lightly brush with wet brush, with just one swipe.
Another Pagoda Project