Easy How to Draw a Deer Tutorial and Deer Coloring Page
Below you'll find an easy step-by-step tutorial for how to draw a Deer and a Deer Coloring Page. This one looks more like a baby, thanks to the extra large head and big eyes.
Deer Drawing
When learning how to draw a deer, especially a young one like this, it's important to get the body proportions right before adding details. The head needs to be on the larger side, and the legs long and thin.

The step by step directions in this tutorial will make those shapes easy to see and draw. Once those skinny legs are attached to the body, and the head has the right shape, then it's time to go and add the details.
Subscribe to "The Daily Draw" below to get this free download!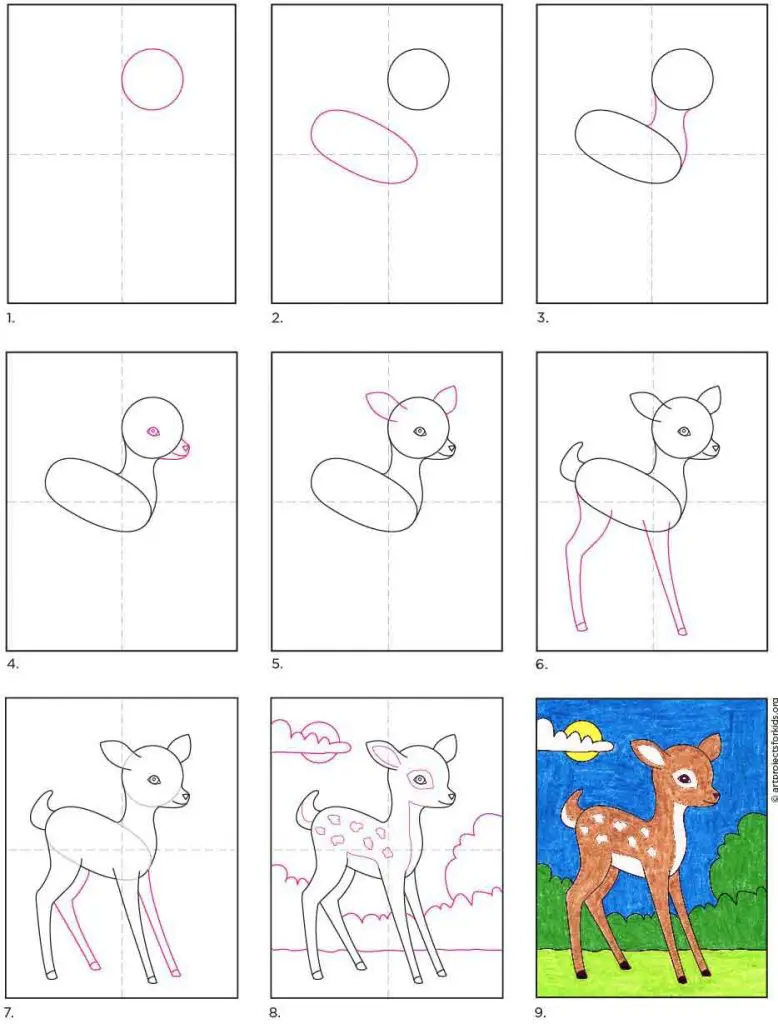 Save me to your Pinterest Board!
Deer Coloring Page
Materials to Draw a Deer
Drawing Paper. This is the good stuff you can buy in bulk for a good price.
Pencils. I like how this brand always makes nice dark lines.
Black Marker. A permanent marker will give you a dark black color.
Note: All of the above are Amazon affiliate links.
Directions to Draw a Deer
Time needed: 45 minutes
How to Draw a Deer
Lightly draw a circle.

Add a tilted pill shape below.

Connect the two shapes with a neck.

Add the nose shape and an eye.

Draw two ears on the head.

Add a front and back leg as shown.

Draw the other two legs and erase all the gray lines.

Trace with a marker.
Add thin lines in pencil only for color guides.

Color carefully with crayons.
More Animal Projects