Easy How to Draw Candy Tutorial and Candy Coloring Page
Below you'll find a step-by-step tutorial for candy drawing and a candy coloring page. Those colors and shapes will look SO familiar to most kids.
Drawing candy from real life might be a good exercise, but comes with some obvious distractions. Not to mention some extra expense. Why not skip all that, and have your students draw some very familiar looking candy with a simple tutorial? This one shows a candy bar, a Tootsie roll, and candy corn. The shapes will probably already be familiar to them, it just helps to have a guide to refer to.
Crayons work great for a general drawing exercise, but if you want to adapt this for some older students, then trying using markers. A couple of extra strokes of color will make any shade of color look a bit darker, and is an easy way to create a more 3D look. The sample drawing on the right illustrates the idea. And any light gray color added to the folds will always make a nice shadow.
Lastly, students should choose a bright color for their background. Anything that contrasts with their candy colors will make them really show up!
Pin me to your Pinterest Board
Use the Button below to download a PDF Tutorial
Candy Coloring Page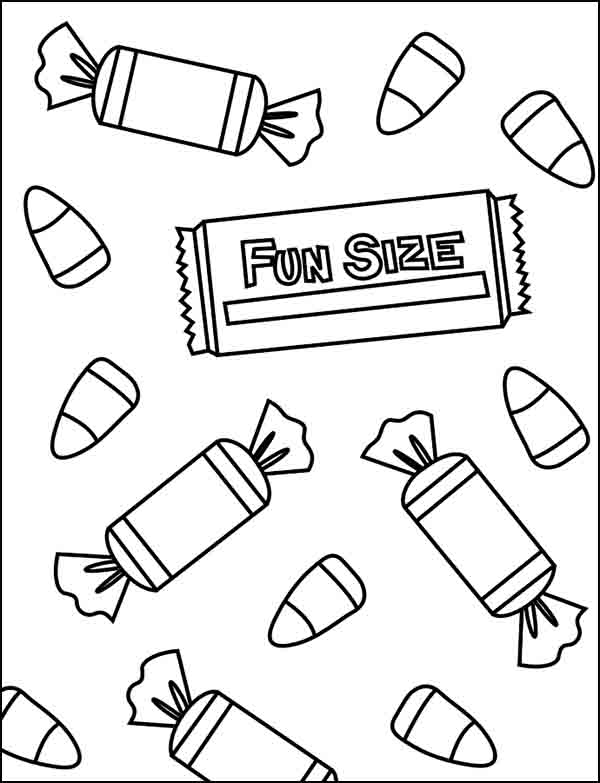 Materials for Candy Drawing
Directions to Draw Candy Step by Step
Time needed: 30 minutes.
Candy Drawing in 9 Easy Steps
Draw a rectangle with sides.

Add zig zag ends on b0th.

Write the candy words inside.

Draw one Tootsie Roll shape.

Add more Tootsie Roll shapes below the others.

Draw a final roll going off the paper.

Space out the candy corn shapes.

Add the two lines inside each kernel of corn.

Trace the lines with a marker and color with crayons.