This 3D drawing step by step tutorial is an excellent example of how to turn flat shapes into dimensional forms (as in squares into cubes).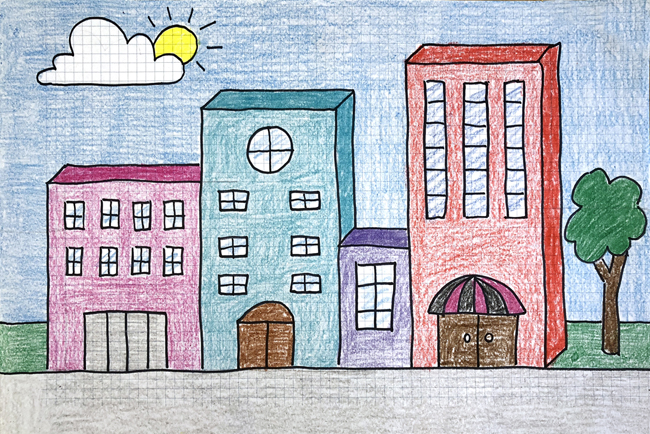 Once students learn how to draw these dimensional shapes, they can then create their own fun and creative cityscape.
TIP: You could work with just blank white paper, but starting with a light grid is so helpful in helping to create nice neat lines. The tutorial download below includes a page with a grid template so you can try it out and print your own.

LIKE THIS DRAWING PROJECT?
There are many more like it my DRAW LANDSCAPES ebook. You can learn how to draw landscapes with a collection of tutorials that spans cultures, climate, composition, perspective and more. All are designed to take beginner artists from the first step to the last with clear and simple diagrams. Just click on the book or title to learn more.
MATERIALS
*The above product links are referrals. If you click through and take action, I'll be compensated a small amount, at no extra expense to you.
DIRECTIONS
PREP: Print "3D Building PDF Tutorial", including the tutorial and graph paper for each student. A full size sample is included for classroom display. To make a large tabloid sheets like the one used in my sample, try taping two letter pages together.
Draw the 3D buildings as shown on my tutorial.
Trace the drawing with a black Sharpie.
Cover the buildings with crayons, using more pressure on the sides to create a look of a shadow.