Easy How to Draw a Robot Tutorial and Robot Coloring Page
Below you'll find an easy step-by-step tutorial for how to draw a Robot and a Robot Coloring Page. There are three fun options to choose from.
Learning how to draw a robot is great for early elementary students as they tend to be based on very geometric shapes. A square head, rectangular body, and half circle hands are all familiar shapes and good ones to practice when in kinder or first grade or so. They make for a good solid start of a drawing, and are easy to decorate. You can even add in a little body proportion talk if you want, as in the arms need to be long enough to touch the legs, and so on.
That's not to say that older students can't get in on the fun though too. They can use their imagination to draw robots with a lot more detail, and perhaps give some more thought about how they actually work. A very detailed robot with perhaps a bit of shading in a few corners can make an amazing drawing!
Use the Button below to Download a PDF Tutorial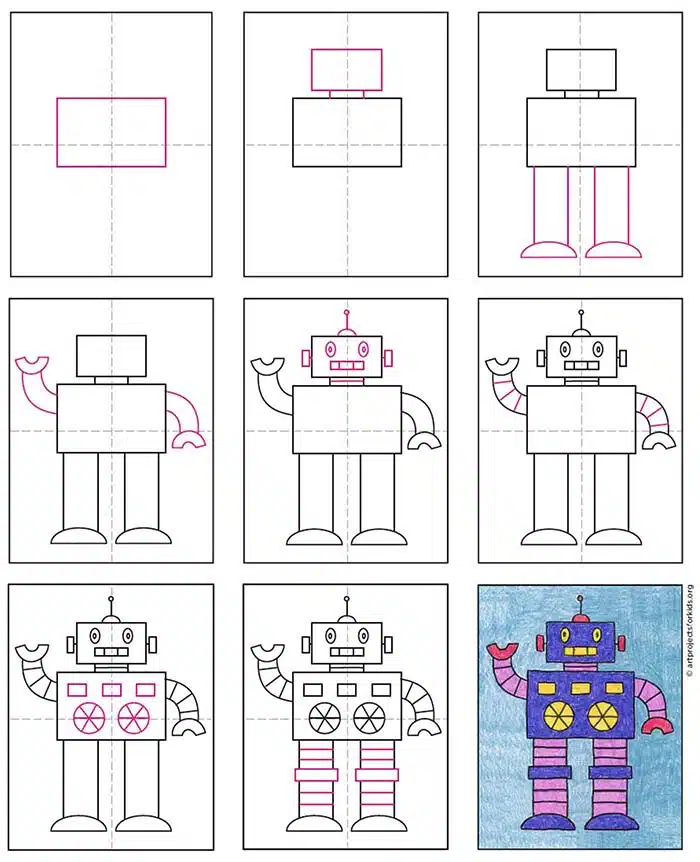 Robot Coloring Page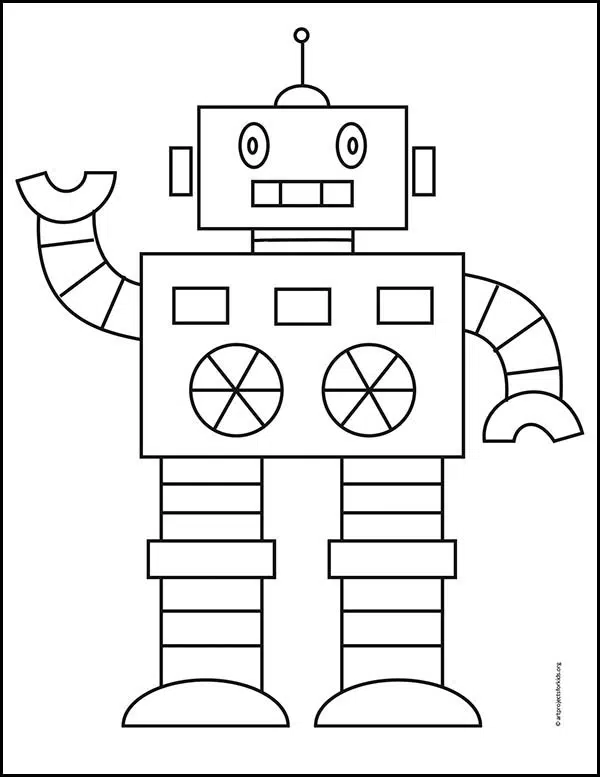 Materials
Drawing Paper. This is the good stuff you can buy in bulk for a good price.
Pencils. I like how this brand always makes nice dark lines.
Black Marker. A permanent marker will give you a dark black color.
Note: All of the above are Amazon affiliate links.
Directions
Time needed: 1 hour
How to Draw a Robot
Draw a rectangle body.

Add a rectangle head and neck lines.

Draw two matching legs and feet.

Draw two curved arms with hands.

Add details to the head and neck.

Add lines to the arms.

Draw details on the body.

Add lines to the legs.

Trace with a marker and color.
Another Robot Drawing
How to Paint a Robot
Here's a fun way to paint a shiny silver robot on a dull black background. The contrast makes him really pop off the page.
Metallic tempera paint is one of the most inexpensive ways I know to add some bling to your student's art. And what better subject matter than something metallic and fun like a robot?
This tutorial is pretty simple so students can get to their painting right away. They basically make a permanent marker drawing on a multimedia paper, and paint it with metallic silver paint, which is pretty transparent. The background is black watercolor paint, which has a very matte finish. The contrast of the dull and shiny will really make the robot really stand out.
More Robot Inspiration
More Fun Drawing Projects