Easy How to Draw Darth Vader Tutorial Video and Darth Vader Coloring Page
Below you'll find an easy step-by-step tutorial video for how to draw a Darth Vader and a Darth Vader Coloring Page.
Darth Vader Drawing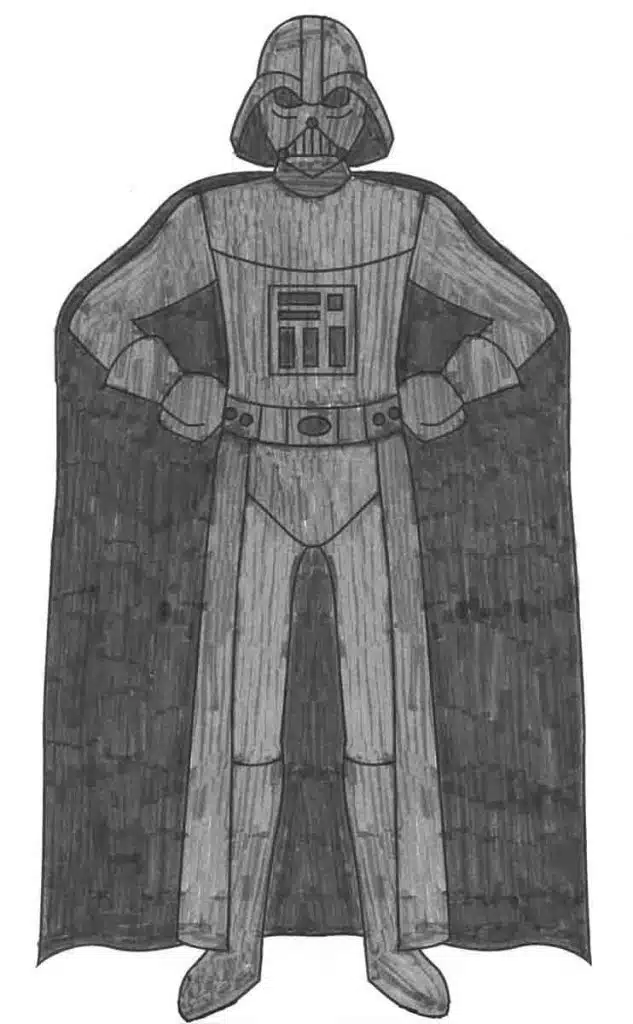 Darth Vader Tutorial Video
Now young fans of the Star Wars franchise have a little help in learning how to draw Darth Vader. With his complicated story line, and intimidating presence, it's no wonder that he's a fascinating character to all who know and love the Star Wars movies. This new step by step tutorial will show how to draw his famous mask and layered uniform. His most famous look comes with a pretty detailed looking belt, and big gloves, and of course, his cape.
How to Color Darth Vader
Please note that to get the dark gray shadowy look that is shown in the drawing above, it is important to have a dark gray marker. Not all school sets come with one, and if students make a detailed drawing of Darth and then color him black, all those shape will just blend in and you will have a black silhouette of Darth Vader. That might look cool too, but if they prefer to see all the buttons and what not on his uniform, some kind of dark gray marker is called for.
The most inexpensive solution that I could find were these Caliart 34 Dual Tip Markers that are included in my Materials list below. They were available on Amazon, under $15 for a giant set, and worked really well. I used the Gray #20, filled in all of Darth with one layer, and then went back and added a second layer to make his cape extra dark. I hope they offer a good solution for others as well! Please note: This is an Amazon affiliate link.
For those that need a quick overview of who Darth Vader is, he was once the heroic Jedi Knight named Anakin Skywalker. He later was seduced by the dark side of the Force. Forever scarred by his defeat on Mustafar, Vader was transformed into a cybernetically-enhanced Sith Lord. At the dawn of the Empire, Vader led the Empire's eradication of the Jedi Order and the search for survivors.
Use the Button below to download a PDF Tutorial
Darth Vader Coloring Page
Materials for Darth Vader Drawing
Note: This post contains affiliate links. If you click and take action, I will be compensated a small amount at no expense to you.
Step by Step Directions for a Darth Vader Drawing
Time needed: 1 hour

More Cartoon Drawing Projects