Most how to draw the Eiffel Tower tutorials out there are either overly simple or overly complex. I made this one to find a happy medium.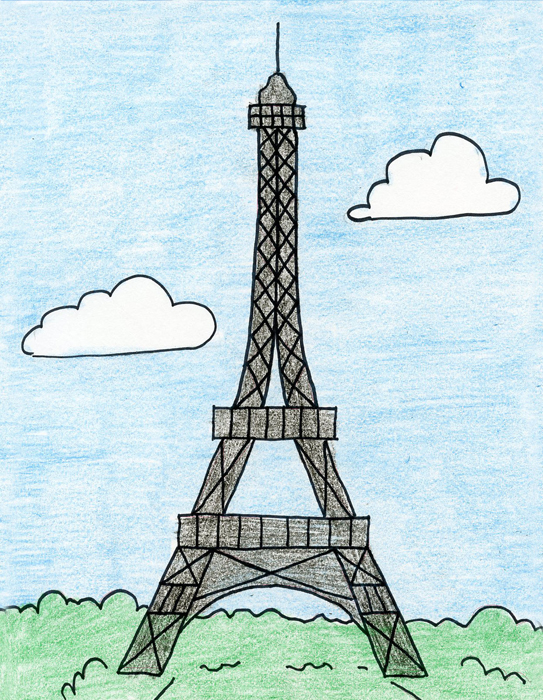 Luckily, the Eiffel Tower is made from lots of straight black beams, which are fairly easy to draw if you break them down into layers. Follow my tutorial to get the two bottom floors before adding the very top. You may find out that this very unique tower is easier to draw than you think!
You can get a copy of my print friendly PDF tutorial, simply by joining my email list. It's also a great way to find out about my new projects and special promotions.
DO YOU LIKE THIS LANDMARK DRAWING PROJECT?
There are many more like it in my "Draw World Landmarks"  ebook in my PDF Shop. All were designed to take beginner artists from the first step to the last with clear and simple diagrams
It covers twenty five landmarks from all over the world and each includes a finished color sample, full size line drawing, step-by-step tutorial, and a grid paper template shown to the right.
MATERIALS
• Eiffel Tower Tutorial (see above)
• Black marker
• Crayons
DIRECTIONS
1. Draw or print the guidelines on paper.
2. Draw the Eiffel Tower with a pencil.
3. Trace the lines with a black marker.
4. Color the drawing with crayons.
Save
Save
Save
Save
Save