Easy How to Draw Vegetables Tutorial and Vegetables Coloring Page
Here's how to draw vegetables and include their root system at the same time. Make if fun by adding a worm or two and a butterfly!
Vegetable Drawing for Kids
Why Draw Vegetables?
Drawing diagrams for plants, especially root-based vegetables, needn't be dull and boring. In fact, they can make quite a colorful and beautiful work of art. And who needs one more black and white sheet of plants to label?

This tutorial shows students how to draw some vegetables and add a few more details to make them just a bit more realistic. After all, some root-based plants have tall thin, brushy leaves, and some have short and wide leaves.

The same can be said for the roots. Even though the plant itself is a root, they sometimes have even smaller hair-like roots that are growing and supporting the plant system. Fortunately, if you just trace them with a good medium size tip marker, they will still show up really well after you color over them with a brown crayon. Let's hear it for waxy crayons that are transparent too!
Use the Button below to download a PDF Tutorial
Vegetables Coloring Page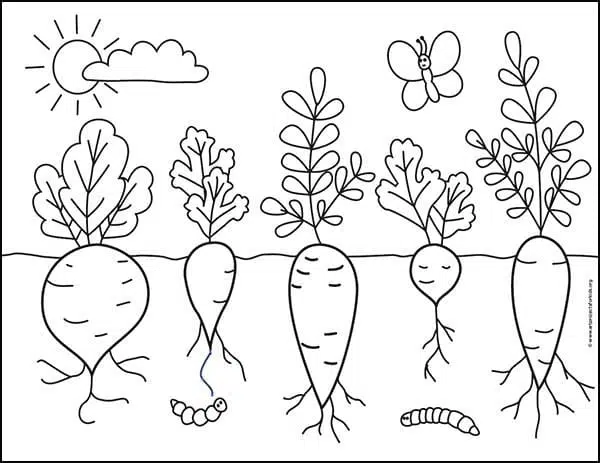 Materials for Vegetables Drawing
Drawing Paper. This is the good stuff you can buy in bulk for a good price.
Pencils. I like how this brand always makes nice dark lines.
Black Marker. A permanent marker will give you a dark black color.
Note: All of the above are Amazon affiliate links.
Step by Step Directions for Vegetables Drawing
Time needed: 45 minutes
How to Draw Vegetables
Draw the ground line.

Draw a turnip as shown in the middle.

Add a beet shape way to the left.

Draw a carrot shape way to the right.

Add a smaller carrot centered on the left.

Draw a radish shape centered on the right.

Erase the ground lines inside each vegetable.

Add worms below, and butterfly and sky above.

Trace with a marker and color.
More Fun Plant Drawing Projects!