One of the Elements of Art, Space, can also be illustrated with a fore, midground and background landscape lesson. Having all three adds more space to your art.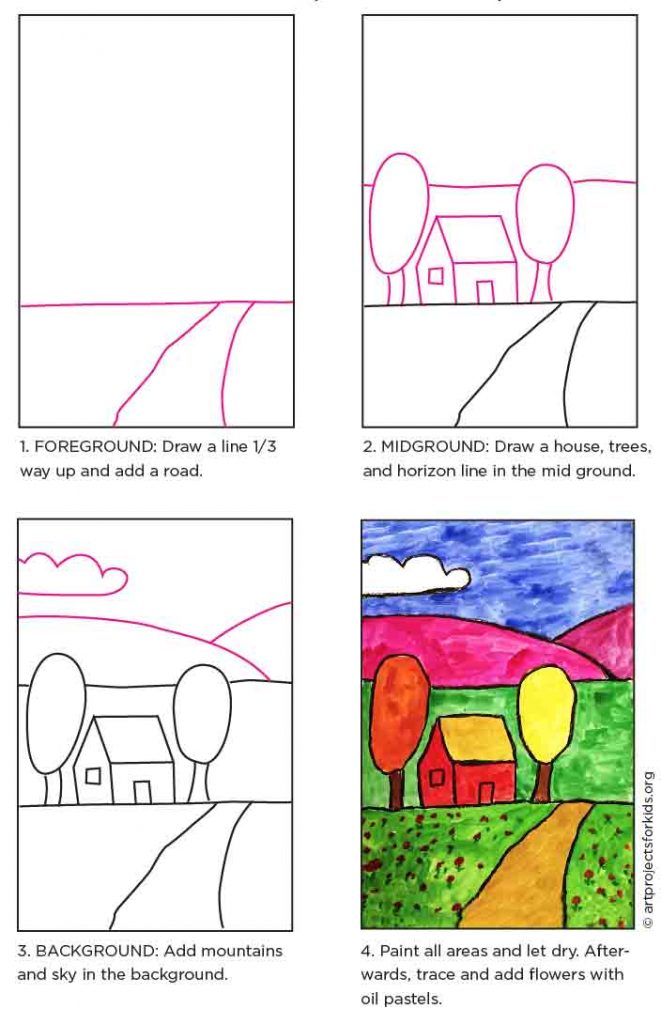 A good middle step between just drawing a house and trees, and drawing a house and trees with perspective, is adding layers of space to your art. A very simple way to approach that is to think of it in three sections — foreground, middle ground, and background.
This drawing has a very simple example of these layers. If your students are up to pushing the space idea even further, try adding large flowers up front, near the bottom, and then tiny ones further back.
MATERIALS
*The above product links are referrals. If you click through and take action, I'll be compensated a small amount, at no extra expense to you.
DIRECTIONS
Time needed: 1 hour.
How to draw Space in a Landscape
Draw the landscape foreground.
Draw the midground with the trees and house.
Draw the background with the mountains and sky.
Paint the landscape with tempera paint. Let dry.
Use an oil pastel to trace the edges of the painted shapes.
Use the pastels to also add flowers to the foreground.