Easy How to Draw a Raccoon in a Sweater Tutorial and Raccoon Coloring Page
Below you'll find an easy step-by-step tutorial for how to draw a Raccoon in a Sweater Tutorial and Raccoon Coloring Page. There's even a fun lesson about Lines, one of the Elements of Art.
Raccoon in a Sweater Drawing
Simple drawing projects can teach young artists more than just how to draw. This lesson about how to draw a raccoon in a sweater could be fun just colored in any way students want, or they could be asked to consider a few other concepts.
Contrast. By keeping the head as just black and white art, while filling the clothes with lots of color, there is a lot of contrast created between the two.
Lines. Using rows of lines to fill in the head will also create an interesting look. They add a natural look of fur, without the use of any color.
Value. The spacing of the lines can make some areas look darker than others. The closer together the lines are, the darker the fur looks.
Drawing projects that have additional levels of complexity built in to them are great for offering students options of what they want to take on. Some might feel totally successful just drawing a cute raccoon that is colored their usual way, while others might kind of lose themselves in making all those little fur lines as neat as possible.
Whatever keeps them drawing is good, in this art teacher's opinion.
Use the Button below to Download a PDF Tutorial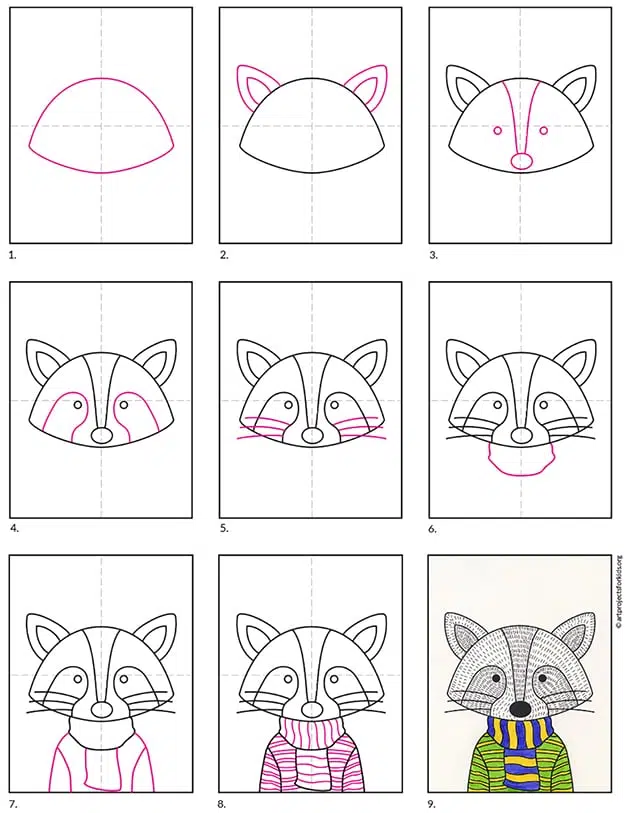 Pin me to your Pinterest Board
Raccoon in a Sweater Coloring Page
Materials for Raccoon in a Sweater Drawing
Step by Step Directions for Raccoon in a Sweater Drawing
Time needed: 55 minutes.
How to Draw a Raccoon in a Sweater
. Draw the head.

Add two matching large ears.

Start the face with the eyes and nose.

Draw the shapes around the eyes.

Add matching whiskers on each side.

Start the scarf around the neck.

Finish the shoulders and scarf.

Draw patterns inside both.

Trace with a marker and color.
More Raccoon Drawing Projects