Easy How to Draw a Truck with a Christmas Tree Tutorial and Coloring Page
Below you'll find an easy step-by-step tutorial for how to draw a Truck with a Christmas Tree and a Truck and a Coloring Page. The bright red and green colors always make a fun drawing.
Truck with a Christmas Tree Drawing
Students can mix some fun country images with their holidays when they learn how to draw a truck with a Christmas Tree. Whether they live in the country or not, it's always fun to imagine what life is like there.

This tutorial shares my favorite way to draw a Pickup truck. If you haven't tried using my tip for making drawing guides (fold lines) before, this is a great one to start with. The main shapes of the truck line up with them, so if students follow the directions, their truck will be well proportioned and fill up their paper.
Why draw with Guides?
You may have noticed that all of the tutorials on this website have a dashed vertical line and horizontal line running through the center of each step. If students make their own centered lines on their own paper, before drawing, they will have an easy reference to follow. All they need to do is fold their sheet of paper in half both ways, make a crease, and unfold. The best part is, by the time the drawing is done and colored in, the creases will have disappeared!
Use the Button below to download a PDF Tutorial
Save me to your Pinterest Board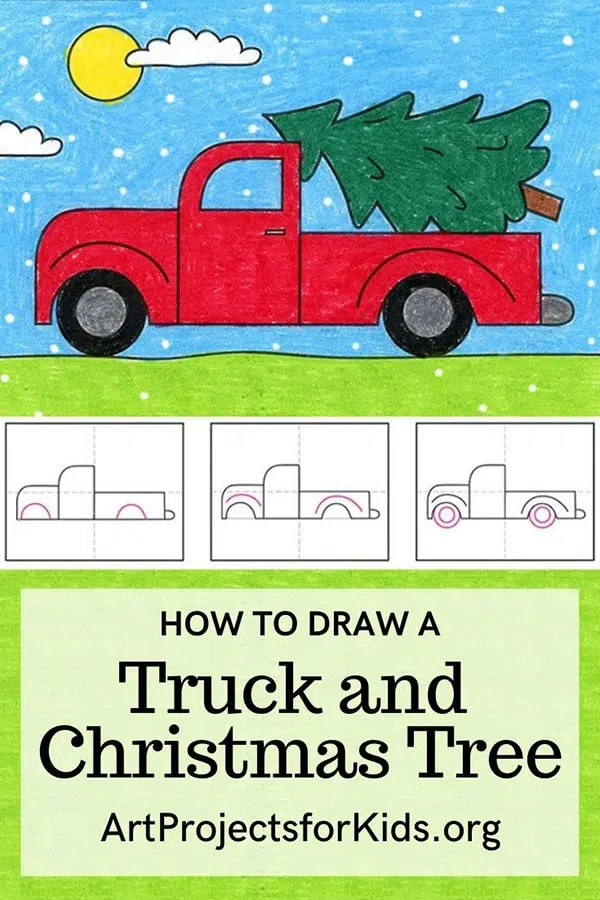 Truck with a Christmas Tree Coloring Page
Materials for a Truck with a Christmas Tree Drawing
Drawing Paper. This is the good stuff you can buy in bulk for a good price.
Pencils. I like how this brand always makes nice dark lines.
Black Marker. A permanent marker will give you a dark black color.
Note: All of the above are Amazon affiliate links.
Step by Step Directions for a Truck with a Christmas Tree Drawing
Time needed: 45 minutes
Truck with a Christmas Tree
Draw the cab shape of the truck.

Add the front end.

Draw the back of the truck.

Add two half circles for the wheels.

Erase the line inside and add detail.

Draw the two wheels and rims inside.

Add a window, and a tree in the bed of the truck.

Finish with a ground line and background.

Trace with a marker and color.
More Fun Christmas Drawings