Once you learn how to draw a Christmas tree, why not put it in a really fun place, like a snowy mountain instead of inside a house?
If Christmas is a magical time of the year, then why not think outside of the box, and imagine a tree in a really unusual place? Trees in homes can be really pretty, of course, but a tree in the middle of nowhere starts to tell story. Who put it there? Is it for people who live there, or just come and visit? Who are the presents for? Is there going to be a party?
Lastly, when it comes to coloring your drawing, here's a tip that will keep your snow looking white and fresh. All it takes is to NOT draw the little circles with a black marker. Just stop when you're done tracing the tree and mountains, put down the black marker, and draw the snow circles with the sky blue color. Afterwards, fill in the background and you will have some very pretty and soft looking snow.
Use Button below to Download a PDF Tutorial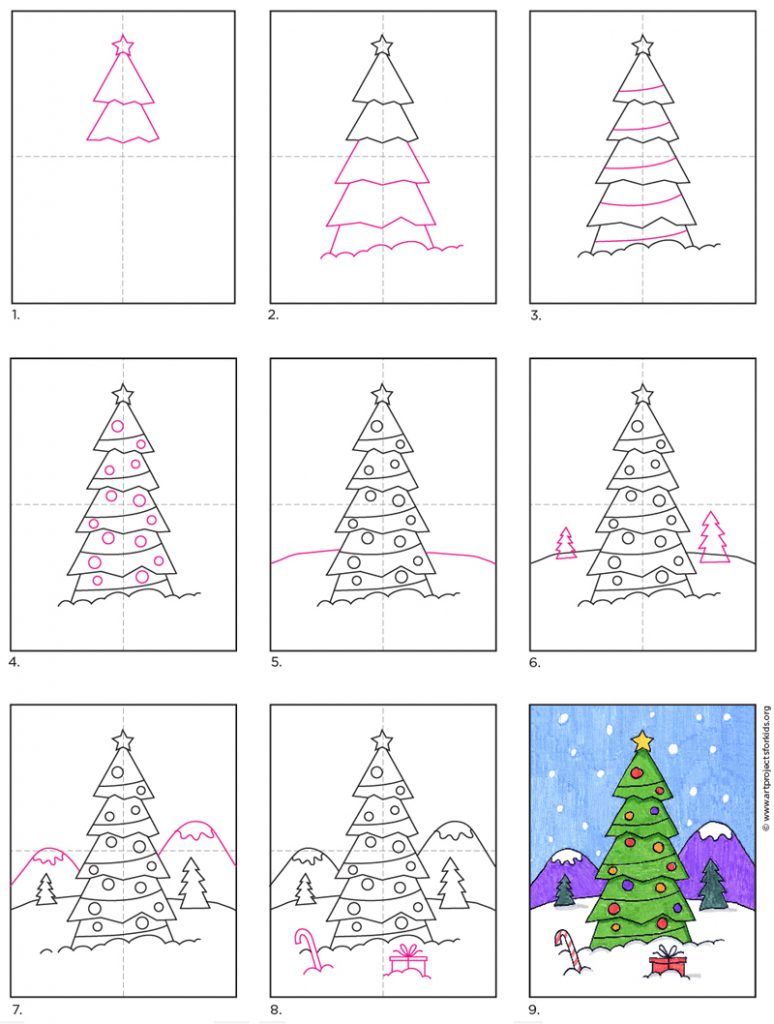 Christmas Tree Coloring Page
Materials for How to Draw a Christmas Tree
Step by Step Directions for How to Draw a Christmas Tree
Time needed: 9 days and 1 hour.
How to Draw a Christmas Tree
Draw a center star and 2 tree sections.

Draw 3 more sections and snow.

Draw lines for the lights.

Add circles for decorations.

Draw horizon line.

Add two small trees in the background.

Add mountains in the back.

Draw presents and candy in the front.

Trace, color and add shadows.
MORE CHRISTMAS PROJECTS