Show your students how to draw the Mayflower and they just might make some beautifully detailed ships.
This sample drawing was made on kraft paper so the sails could be colored white, but any paper will work just fine. A white stock would allow for a pretty blue sky, so it really depends on personal (or teacher!) preference.
The sails on this ship may look a little complex at first glance, but with a little planning they all make sense. Just make sure to draw then with curved sides so it looks like the wind is filling them up.
MATERIALS
Draw the Mayflower Tutorial (see above to download)
*The above product links are referrals. If you click through and take action, I'll be compensated a small amount, at no extra expense to you.
LOOKING FOR MORE DRAWING PROJECT IDEAS?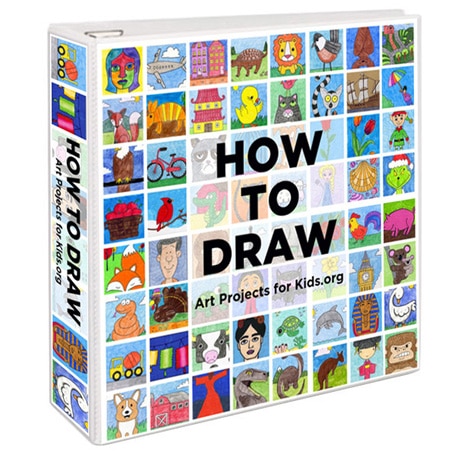 There are 200 fun and easy drawing tutorials made just for young artists in my giant How To Draw ebook.
All were created with lots of hands on classroom testing, and designed to take beginner artists from the first step to the last with clear and simple diagrams.
It's all you need to provide hours of drawing fun with tutorials for Animals, Fish, Insects, Birds, Landscapes, Plants, Transportation, People and much more. Just click on the book or title to learn more.
DIRECTIONS
Print or draw guidelines on each paper.
Students draw the ship with a pencil according to the tutorial.
The drawing is traced with a black marker.
The ship is colored using brown for the boat, white for the sails, and blue for the water.
Save