Easy How to Draw a Viking Ship Tutorial and Viking Ship Coloring Page
Below you'll find an easy step-by-step tutorial for how to draw a Viking Ship and a Viking Ship Coloring Page. The curvy details are so much fun to draw!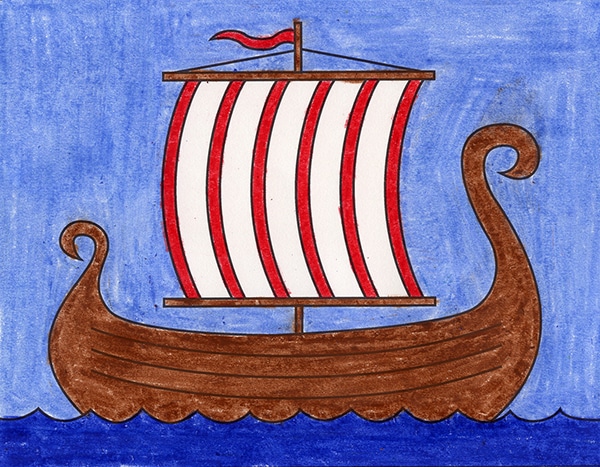 Now students that are fascinated by this historical time can have some help in learning how to draw a Viking ship. It most definitely has its own look, which isn't hard to do when you take it one step at a time.
Real Viking ships often had a lot more detail carved into them, but this lesson works great for younger artists that just want the basic look. Add a colorful and striped sail and you have the makings of a really fun Viking drawing!
Use the Button below to Download a PDF Tutorial
Viking Ship Coloring Page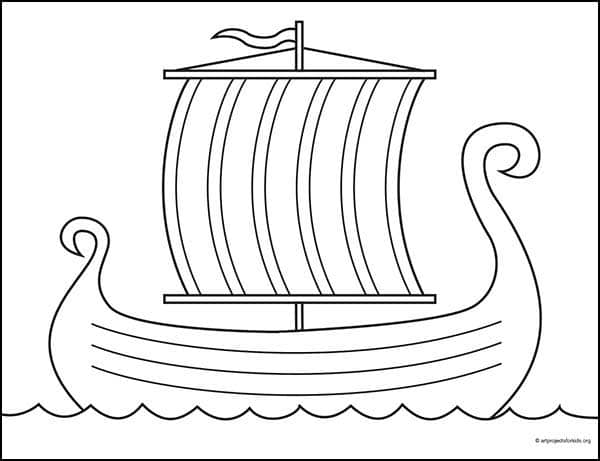 Materials for Viking Ship
Drawing Paper. This is the good stuff you can buy in bulk for a good price.
Pencils. I like how this brand always makes nice dark lines.
Black Marker. A permanent marker will give you a dark black color.
Note: All of the above are Amazon affiliate links.
Step by Step Directions
Time needed: 1 hour.
How to Draw a Viking Ship
Draw the water waves.

Draw two curved ends of the boat.

Connect the two ends as shown.

Add the side lines.

Draw the center pole and two cross bars.

Draw the sail sides. Erase the inside lines.

Draw an even number of curved stripes.

Add the flag and lines.

Trace with a marker and color with crayons.
More Fun Boat Projects