Easy fall art projects can start with just crayons and watercolors. This amazing leaf was created by a 1st grader, Sara G. I could look at it all day.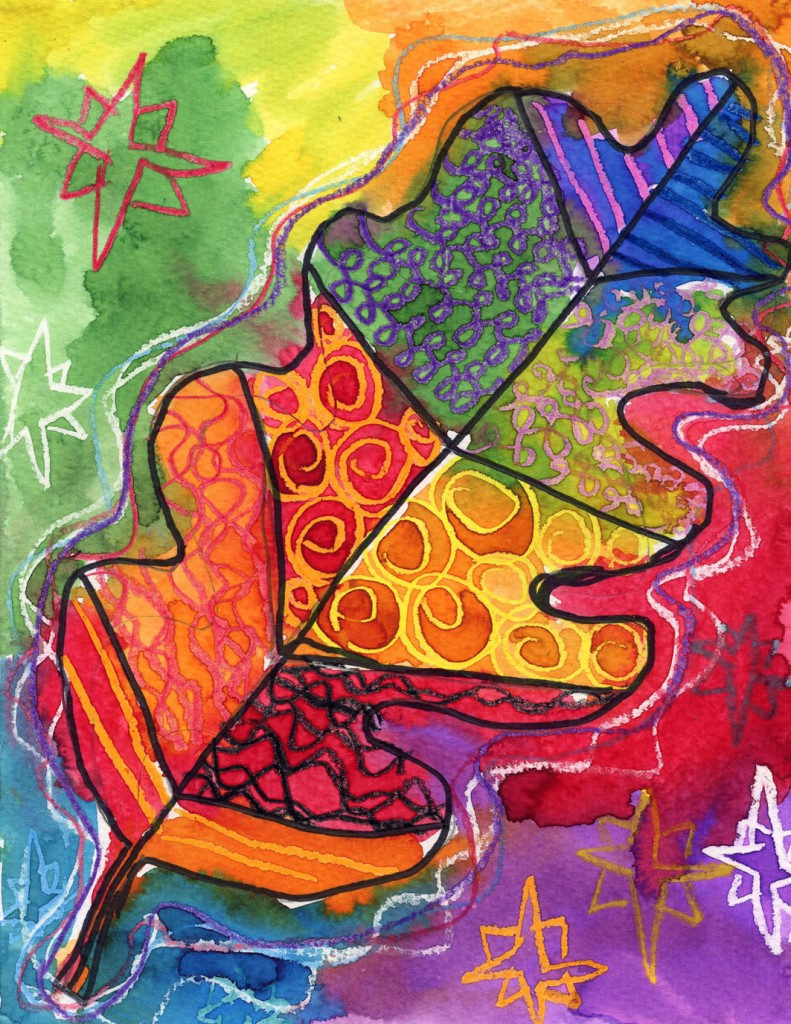 This is an example of what happens when are lucky enough to bring the best of the best together for one easy fall art project.
First, start with good watercolor paper, which gives you all that lovely painted texture when finished. If you must, save it for special occasions, but do yourself a favor and try it out at some point with your students.
Next, you use what I think is the best watercolor paint for kids, namely the liquid type. I'm not sold on any one brand, they all seem to work fine. Dilute the paint as little as possible so the colors stay bright.
Lastly, hope to have a talented student like this young girl, Sara, who took simple instructions like "make patterns with the crayons" and ran with it. Some kids just have a flair, and that was apparent with this young girl as soon as I met her. Over the years, she made many things that took my breath away, but this probably remains my all time favorite.

LOOKING FOR SOME EASY DRAWING PROJECTS?
There are 200 fun and easy ones in my giant How To Draw ebook in my PDF Shop. All were created with lots of hands on classroom testing, and designed to take beginner artists from the first step to the last with clear and simple diagrams.
It's all you need to provide hours of drawing fun with tutorials for Animals, Fish, Insects, Birds, Landscapes, Plants, Transportation, People and much more.
MATERIALS
*The above product links are referrals. If you click through and take action, I'll be compensated a small amount, at no extra expense to you.
DIRECTIONS
1. Draw a large leaf shape that fills the paper diagonally.
2. Trace the leaf and veins with a thick black Sharpie marker.
3. Use crayons to make lots and lots of patterns in each section of the leaf.
4. Trace the outline of the leaf with white and / or light crayons at least 3 times.
5. Use liquid watercolors liberally, and let the colors bleed wherever they wanted to.
Save