Perspective drawing for beginners is easier to learn with just one vanishing point. These fall trees lining a boardwalk make for a pretty landscape with lots of space.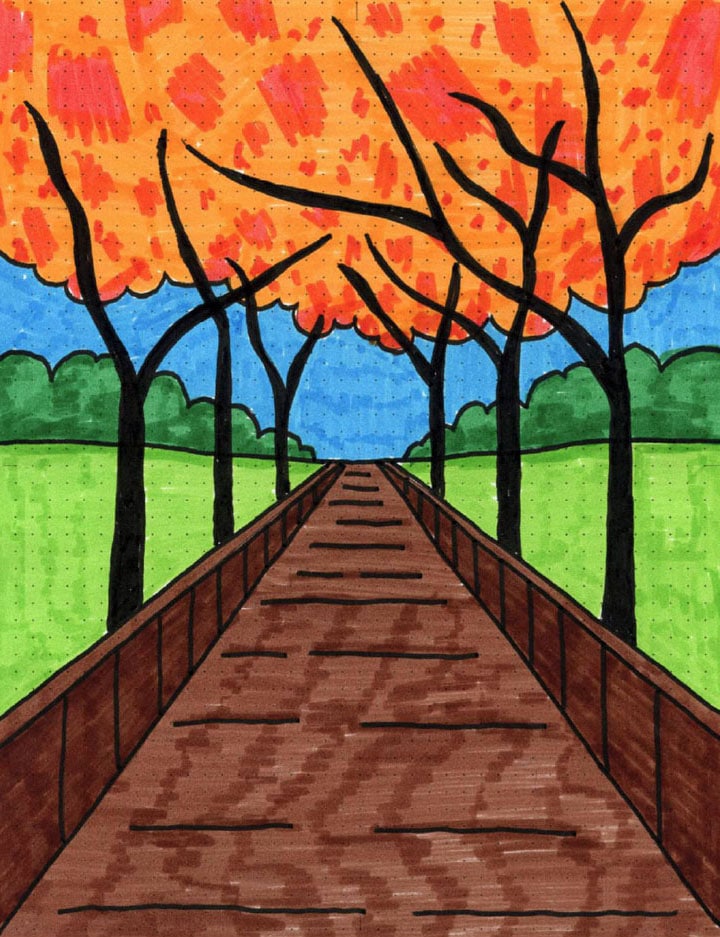 When trying a one point perspective drawing for the first time, it really helps to work with similar shapes that line something with parallel lines. Whether you use a street, or train tracks, or a boardwalk, it will simplify the job of drawing things smaller and smaller as they fade off into the distance.
My experience is that 2-point perspective is best for middle and high school students, but older elementary ones will most likely enjoy this basic one point version. There's nothing like seeing how to make a landscape with some serious "space" in it just by following this formula.
MATERIALS
Boardwalk PDF Tutorial (see above)
Drawing paper
Ruler
Black permanent marker, fine tip
Markers, Stabilo Power Wallet preferred
DIRECTIONS
Time needed: 1 hour.
How to Draw with Perspective
Draw horizon line. Use ruler to draw boardwalk lines.

Use ruler again to draw handrail lines.

Draw vertical lines on handrails.

Draw two large trees near the front.

Draw two medium trees further back.

Draw two smaller trees near the back.

Add outside edges of the trees. Add lines to boardwalk.

Trace with permanent black marker. Color as shown.

Finish the trees with a layer or orange. Add brown shadows.
More Landscape Projects