Below you'll find an easy step-by-step tutorial for how to draw a Building and a Building Coloring Page. It's one of the first steps to learning about perspective.
When students start to learn more about squares and cubes, they might be ready to apply those ideas to real life and learn how to draw a building. And not just any building, but buildings that look 3D! Their cityscape drawings will go to a whole new level when they learn how to add some sides to their buildings, so they can have some dimension to them.
This tutorial walks students through the easiest way I know to draw a row of buildings. If they start with a row of rectangles, various heights and sharing sides, it will simplify the process of adding depth to them. Once they add diagonal corner lines all going in the same direction, the final step of connecting them becomes easier to see and do. A closer look at the step by step directions below will help explain that.
Save me to your Pinterest Board!
Use the Button below to download a PDF Tutorial
Buildings Coloring Page
Materials for Buildings Drawing
Black Sharpie Marker. These fine point permanent marker pens make nice black outlines, have a good tip for coloring, and never bleed when they get wet. Use them with good ventilation and add extra paper underneath to protect your tables.
Prang Crayons. These are a bit softer than other crayons so they sometimes look like oil pastels. They also have a some nice brown shades that Crayola does not have unless you buy their larger boxes.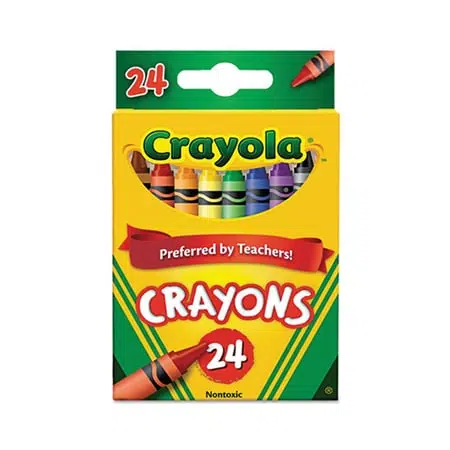 Crayola Crayons. The reliable brand that always works well. The 24 pack has some of my favorite golden orange and yellow colors that seem a bit richer and warmer than the ones Prang has.
Step by Step Directions for Buildings Drawing
Time needed: 30 minutes.
How to Draw Easy 3D Buildings
Draw a ground line.

Add touching rectangles above.

Draw 45 degree angle lines at corners shown.

Connect ends with straight lines.

Start adding doors and windows.

Continue adding doors and windows.

Finish the doors and windows.

Add a tree, cloud and sun.

Trace with marker and color.
Student Artwork
Another Easy Building Drawing Project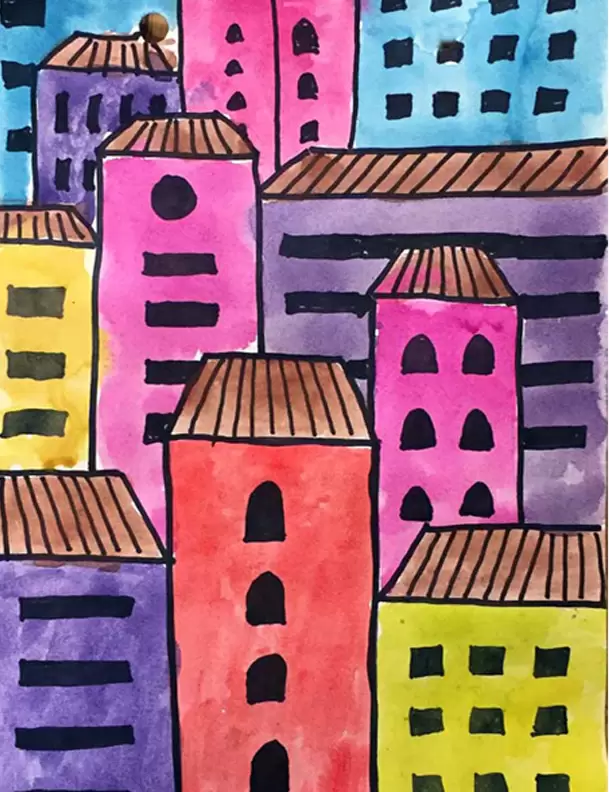 More Fun Building Projects