Easy How to Draw Notre Dame Cathedral Tutorial and Notre Dame Coloring Page
Below you'll find an easy step-by-step tutorial for how to draw Notre Dame Cathedral and a Notre Dame Coloring Page. It is considered to be one of the finest examples of French Gothic architecture.
Learning how to draw Notre Dame can be pretty intricate. This tutorial simplifies all the cathedral's details, but keeps the amazing symmetry. Grid paper really helps when it comes to drawing any architecture, so a template is included in this PDF download.
Dedicated to the Virgin Mary, Notre-Dame de Paris is one of the oldest Gothic Cathedrals in the world and one of the best-known. Its towers offer incredible views over Paris.
This tutorial is designed to be drawn on a 6″ x 9″ sheet of paper. If you want students to draw this without the grid, just cut a sheet of 9″ x 12″ drawing paper in half.
If you'd like for them to use the grid, and keep it in their Recycled Art Journal, do the following. Print the grid on page 4 of my download to 8.5″ x 11″ paper. Then xerox it onto drawing paper. Students can draw, and then cut it out and hold punch in when they are done.
Use the Button below to download a PDF Tutorial
Notre Dame Coloring Page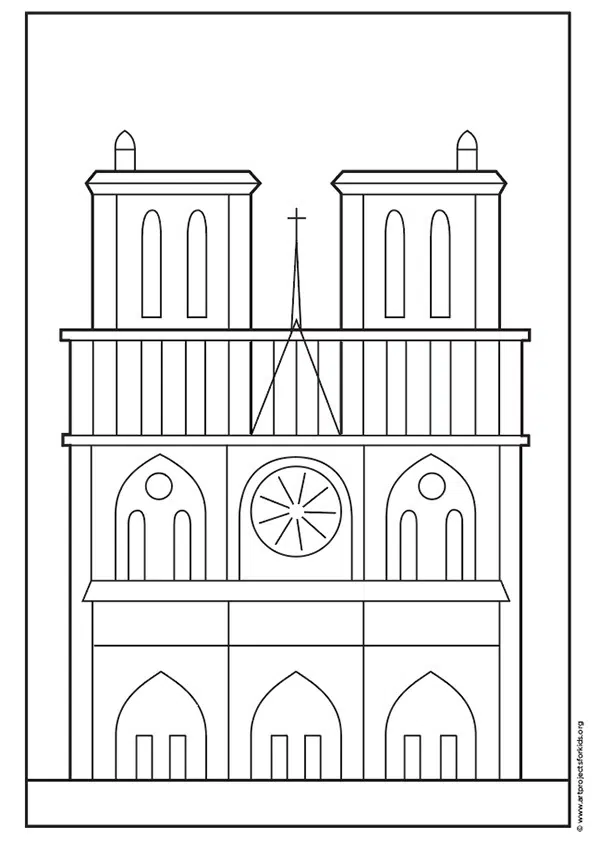 Art Materials
Drawing Paper. This is the good stuff you can buy in bulk for a good price.
Pencils. Don't waste your money on the cheapest brand. These make nice dark lines.
Black Marker. The perfect medium size tip marker for tracing.
Stabilo Markers. I love this brand! They have amazing color selection and the perfect ends to color with. Not too fat, and not too thin, just right.
Note: All of the above are Amazon affiliate links.
Step by Step Directions
Time needed: 1 hour
How to draw the Notre Dame Cathedral
Draw ground line and bottom floor.

Add second floor.

Add third floor.

Add two towers.

Add lines inside towers.

Add windows inside and posts on top.

Add railing on third floor.

Draw arches and center window.

Add arch details.

Draw arches and lines on ground floor.

Add doors and steeple at the top.

Trace and color with markers.
More Buildings to Draw