Easy How to Paint Birch Trees Tutorial
Learn how to paint Birch trees with this step by step tutorial. Some painter's tape will help keep them nice and white while students paint the watery background sky.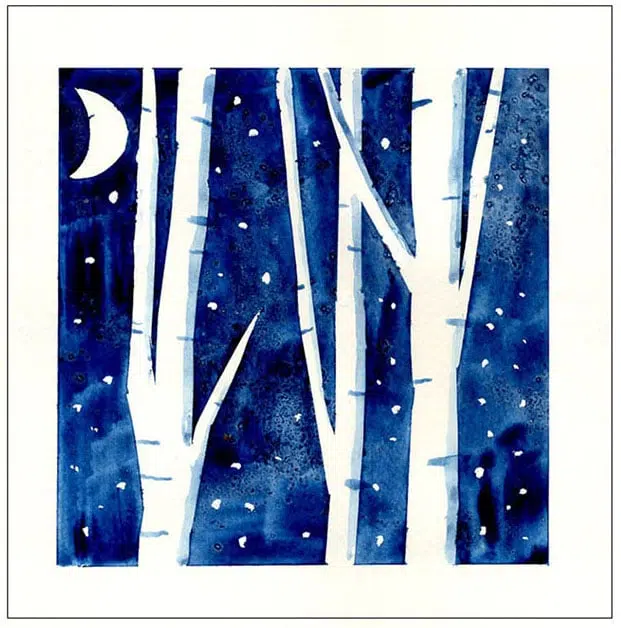 This how to paint birch trees project is a popular theme for many artists, and it's easy to see why. The pretty white bark is such a nice change from black and brown trees, and also makes it easy to add some delicate shadows. And when you add in a contrasting sky, and a sprinkling of snow, it all adds up to a lovely painting, no matter how like or dark your colors might be.
One way to block out some birch trees against a background is to use painter's tape and watercolors. The tape is nice and wide, and can easily be cut to add some smaller branches. The bonus is that the tape is designed to seal edges, but easily peel away when the things are dry.
Do use sturdy paper though, such as watercolor paper. The tape can sometimes pull up the paper, so working with something heavy will lessen the chances of that happening.
Pin me to your Pinterest Board
Use the Button below to Download a PDF Tutorial
Materials to Paint a Birch Tree
Step by Step Directions to Paint Birch Trees
Time needed: 2 hours
Birch Tree Art Project
Tape a border and the trees with branches.

Paint a blue wash and sprinkle salt. Let dry.

Carefully remove tape.

Paint blue stripes, shadows. Add white snow.
More Winter Art Projects