Easy How to Draw a Castle Tutorial and Castle Coloring Page
Below you'll find an easy step-by-step tutorial for how to draw a Castle and a Castle Coloring Page. Now there are two fun versions to choose from!
Castle Drawing
Castle Tutorial Video
Are your students studying medieval times? If so, one way to help them remember all this new info is to have them learn how to draw a castle. There are many different ways to draw one, of course, but this tutorial has enough cool details to make it fun and interesting, but not so many that it becomes difficult.
Rather than just draw a square with the familiar cut out shapes at the top, this castle tutorial shows students how to draw the turrets on the sides, the rounded wood door, and tower with a flag. Add a mountain background, and you have the setting for an historical and/or fairytale kind of drawing!
Castles from Europe originated in the 9th and 10th centuries. More advanced castles that featured towers other defensive structures, like the one in this tutorial came around in the 12th and 13th centuries. These changes made castles stronger and tougher which is why some still stand today, over 500 years later.
Join "The Daily Draw" below to get this free download
Castle Coloring Page
Already Subscribed? Then use the button below
Materials to Draw a Castle
Drawing Paper. This is the good stuff you can buy in bulk for a good price.
Pencils. I like how this brand always makes nice dark lines.
Black Marker. A permanent marker will give you a dark black color.
Note: All of the above are Amazon affiliate links.
Step by Step Directions
Time needed: 1 hour.
Draw a Castle
Make guidelines. Draw the door.

Start the towers.

Continue the towers and doors.

Add tower tops and door lines.

Add more tower and door lines.

Draw the center tower.

Draw the windows and flag.

Add the background mountains.

Trace the drawing with marker and color with crayons.
Draw a Castle in a Forest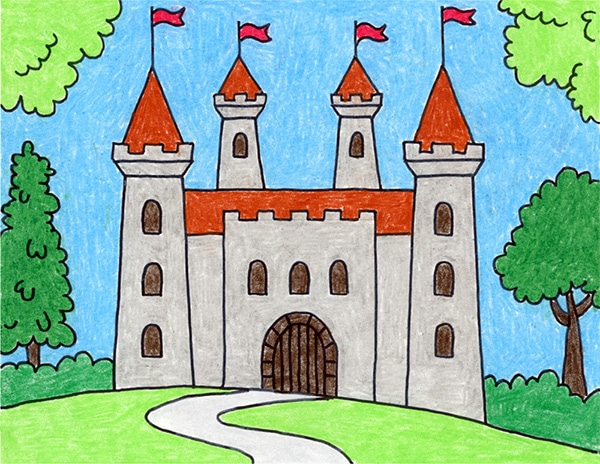 Student Artwork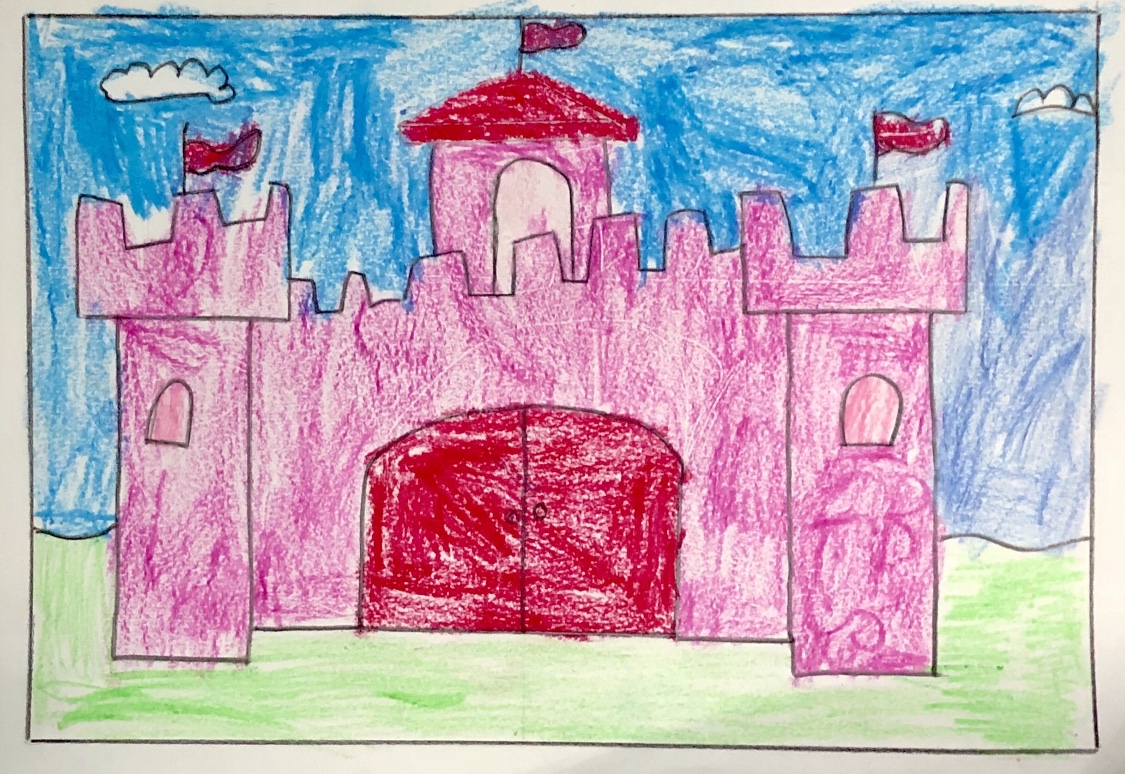 More Building Drawing Projects