Easy How to Draw a Spider Web Tutorial Video
Below you'll find an easy step-by-step tutorial for how to draw Spider Webs. For some extra fun try, a silver pen on black paper to make them really stand out!
How to Draw a Spider Web
Spider Web Tutorial Video
Have you ever wondered why some spider web drawings look so much more real than others? Well, it's obvious that they follow a pattern, but I think the difference is when someone tries to draw them too well. As in, all perfectly straight lines with perfectly even spaces in between them. They just tend to look TOO geometric, and have none of the little irregularities that "real life" spider webs have.
Here are my three tips for drawing your best spider web:
• Put away any rulers and draw these free hand. Wobbly lines will only make them look more real.
• Draw the rings that go around the center dot with a slight drape to them. It will make them look like they have some weight to them.
• Add just a bit more space between the rings as they go away from the center.
That's it. Once students have that formula down, I recommend experimenting with all the cool markers around these days. Especially those that work well on black paper. Some of the more inexpensive metallic markers for kids work as well as those more expensive white pens.
It's fun to mix up materials from time to time, if the budget allows. Drawing light lines on a dark black sheet of paper is a completely different experience than black on white. It kind of heightens the senses, and more awareness about drawing is always a good thing.
Join "The Daily Draw" below to get this free download!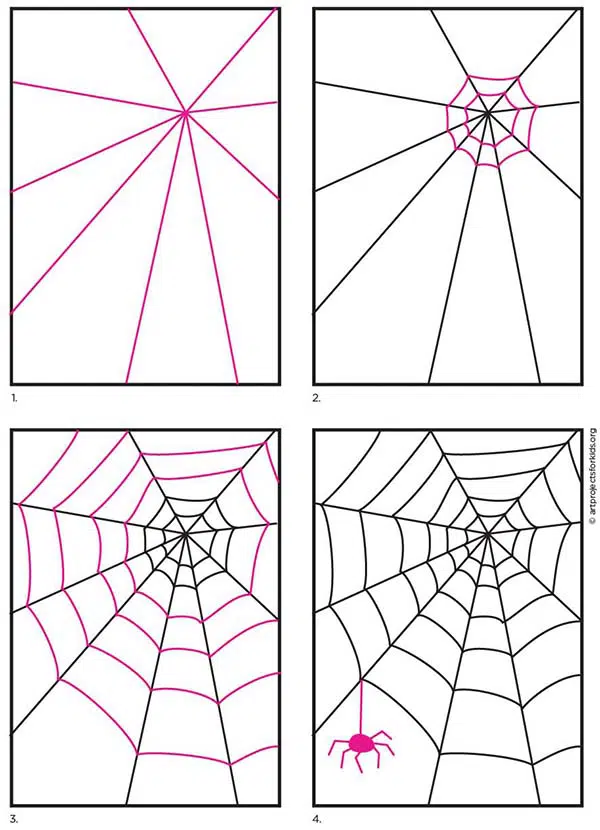 Spider Web Drawing Materials
Crayola Metallic Markers* Water-based. If your younger students haven't tried drawing with these on black paper before, they are in for a real treat. The color just pops off the page!
Sharpie Metallic Marker* Permanent, good for older students.
Black Card Stock Paper* It works better than construction paper. The surface is smooth, and the black is really black so you have maximum contrast with the marker color.
*are all Amazon affiliate links
Spider Web Drawing Directions
Time needed: 30 minutes.
Step by Step Spider Web Directions
Choose center spot and draw about 9 lines out.

Start drawing circles that drape from line to line.

Add more rings, spacing each out a bit more.

Draw a big fat spider somewhere, hanging from the web.
More Halloween Projects