Easy How to Draw a School Bus Tutorial and School Bus Coloring Page
Below you'll find an easy step-by-step tutorial for how to draw a School Bus and a School Bus Coloring Page. The big boxy yellow shape is recognized almost everywhere.
Learning about different forms of transportation? Then learning how to draw a school bus might come in handy. This one shows students how to draw the long yellow body with the right proportion, complete with a row of windows.
Encourage your students to customize this drawing to their own particular interests. For instance, the black stripe could be fatter so that their school name fits inside. Or those empty windows could be filled cute faces of children happy to go back to school again. OR the background could be some exotic location they would love have for a field trip.
Use the Button below to download a PDF Tutorial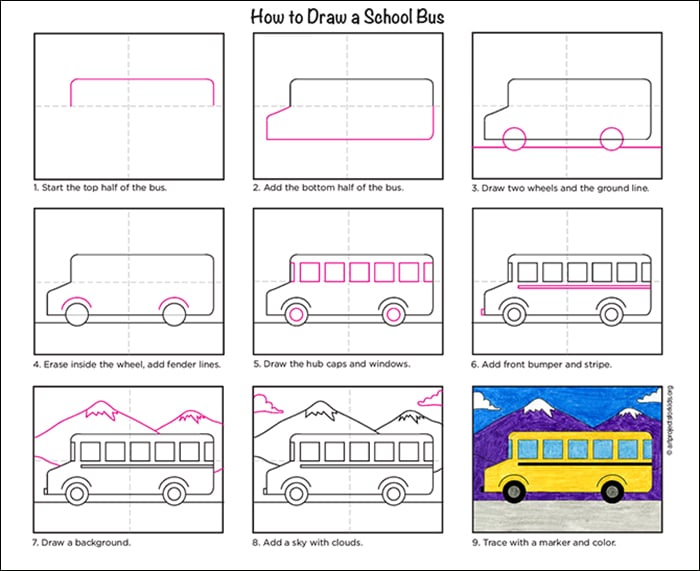 School Bus Coloring Page
Materials
Drawing Paper. This is the good stuff you can buy in bulk for a good price.
Pencils. I like how this brand always makes nice dark lines.
Black Marker. A permanent marker will give you a dark black color.
Note: All of the above are Amazon affiliate links.
Step by Step Directions
Time needed: 25 minutes.
How to Draw a School Bus
Draw the top half of the bus.

Add the bottom half of the bus.

Draw two wheels and the ground line.

Erase the lines inside the wheel and add fender lines.

Draw the hub caps and the windows.

Add a front bumper and stripe on the side.

Draw a background.

Add a sky with clouds.

Trace the drawing with a marker and color with crayons.
More Transportation Drawing Projects