Easy How to Draw Jane Goodall Tutorial
Below you'll find an easy step-by-step tutorial for how to draw Jane Goodall, the world's leading expert on chimpanzees. She has studied them for over 40 years.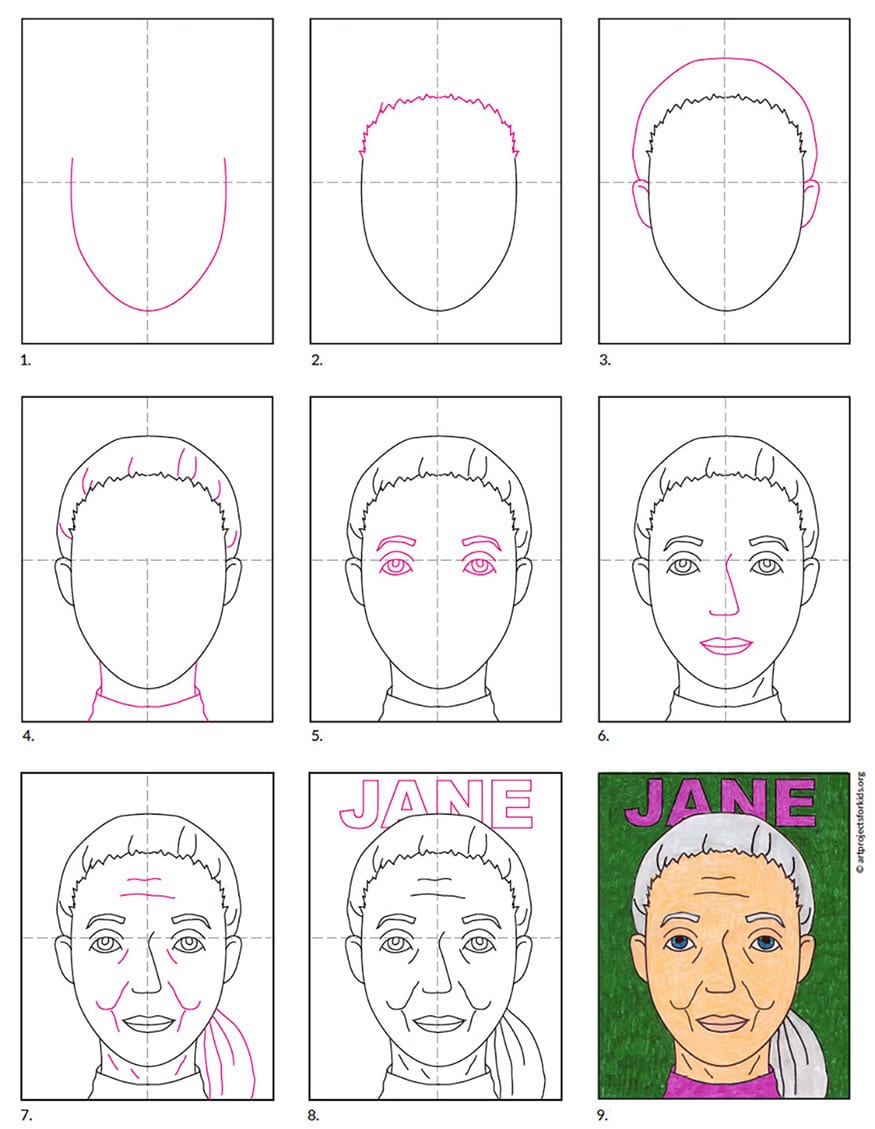 Now students have some help in learning how to draw Jane Goodall, whom I'm sure has had many a book report written about her. She has a beautiful look that she has kept over the years, namely her long silver hair and high cheekbones. This tutorial will hopefully help many draw her image with a little more likeness to her lovely face.
Jane was born in London in 1934 and spent her early years dreaming about visiting Africa. She read lots of books about animals went on to study animal behavior at Cambridge University. In 1960, she began studying the chimps in Gombe Stream Park, Tanzania. She discovered that chimps were able to catch food and make basic tools from tree branches.
While in Africa, Jane also devised a feeding system to get as close as possible to the chimps. She ate the same food as the chimpanzees and spent time with them in the trees. The Jane Goodall Institute was established in 1977 to protect chimpanzees and their habitats. It has offices in over 12 countries and over 10,000 groups in over 100 countries.
".. stop looking all around the world, just think about where you are, or some project that you really care about, and roll up your sleeves and do something about that."

— Jane Goodall
Materials to draw Jane Goodall
Drawing Paper. This is the good stuff you can buy in bulk for a good price.
Pencils. I like how this brand always makes nice dark lines.
Black Marker. A permanent marker will give you a dark black color.
Note: All of the above are Amazon affiliate links.
Step by Step Directions for a Jane Goodall Drawing
Time needed: 45 minutes.
How to Draw Jane Goodall
Draw the bottom of her face.

Add a zig-zag hairline.

Draw ears and outer edge of hair.

Add hair lines, neck and collar.

Draw two eyes and eyebrows.

Add the nose, lips and cheek bone lines.

Draw more skin lines and a pony tail.

Add J-A-N-E block letters in the back.

Trace with a marker and color.
Save to me Your Pinterest Board!