Young students can learn how to draw a simple fox with the help of this step by step tutorial. Coloring him with oil pastels will really help him stand out on black paper.
This very simple fox tutorial works with lots of different media. Tempera or watercolor paint are also good options, but no matter which you choose, encourage your students to make really thick lines. It will help your fox have a very bold look, which is nice to have with such bright and contrasting colors like blue and orange and green.
MATERIALS
Fox Tutorial (see above)
Black construction paper
Oil pastels
DIRECTIONS
Prep: Print tutorial for each student.
Draw guide lines on paper or fold in half to make creases.
Students follow the tutorial to draw the fox in pencil.
The fox is traced with a black oil pastel.
The fox is colored very heavily with oil pastels.
The background is colored.
The black lines are traced again to make them bold, so they really stand out.
LOOKING FOR MORE DRAWING PROJECT IDEAS?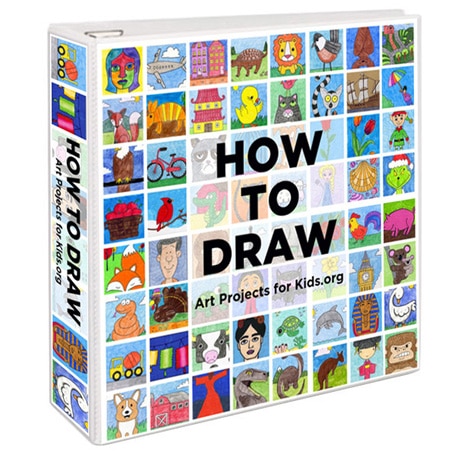 There are 200 fun and easy drawing tutorials made just for young artists in my giant How To Draw ebook.
All were created with lots of hands on classroom testing, and designed to take beginner artists from the first step to the last with clear and simple diagrams.
It's all you need to provide hours of drawing fun with tutorials for Animals, Fish, Insects, Birds, Landscapes, Plants, Transportation, People and much more. Just click on the book or title to learn more.
Save