Easy How to Draw a Nutcracker Tutorial and Nutcracker Coloring Page
Below you'll find an easy step-by-step tutorial for how to draw a Nutcracker and Nutcracker Coloring Pages. Now it's easy to learn how to draw a simple, fancy, or even giant version!
Nutcracker Drawing
The good news is that there are many, many different ways to learn how to draw a nutcracker. Students that are interested in the fancier version are welcome to try this one out, and those that need to just try a basic one, can scroll down below.
The good news is that Nutcrackers make for good body drawing practice, as their soldier like pose makes them easy to see and match from one side to the other. Students can also review body proportions as in my experience, many tend to draw arms (on nutcrackers or people) a bit short. This nutcracker can remind them that the hands need to extend down well past the waist and hips.
The Nutcracker Ballet greatly popularized the nutcracker back in the early 1950s, at which point they pretty much became synonymous with Christmas. Their colorful look can add a lot to the festivities, so it's no wonder they are so popular.
Getting Started with Drawing Guides
The best way to get students off to a good start to any drawing lesson is to show them how to use guides as a reference point.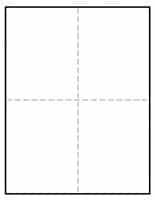 You may have noticed that all of the tutorials on this site have a dashed line running through the center of each step, in both horizontal and vertical directions. If students make their own centered lines on their own paper, before drawing, they will have an easy reference to follow.
Drawing skills are all about getting the size and placement of lines on paper, so having some visual reference point to get started, will always help anyone learn how to be a little more accurate. So does that mean students need to get out a ruler to draw a big fat line down the center of their paper before they start? Goodness no, please don't! That will most likely be hard to erase and distract from any finished art. No, simply fold the sheet of paper in half both ways, make a crease, and unfold. The beauty is that by the time the drawing is done and colored in, the creases will disappear.
Pin me to your Pinterest Board
Use the Button below to Download a PDF Tutorial
Nutcracker Coloring Page
Materials for a Nutcracker Drawing
Drawing Paper. This is the good stuff you can buy in bulk for a good price.
Pencils. I like how this brand always makes nice dark lines.
Black Marker. A permanent marker will give you a dark black color.
Note: All of the above are Amazon affiliate links.
Step by Step Directions to Draw a Nutcracker
Time needed: 45 minutes.
Easy Nutcracker Drawing Instructions
Draw a belt.

Start the jacket above it.

Add the head and hair.

Draw a hat on the head.

Continue the jacket as shown.

Draw the arms with sleeves.

Add the legs with boots.

Draw the cane and background.

Trace with marker and color.
How to Draw an Easy Nutcracker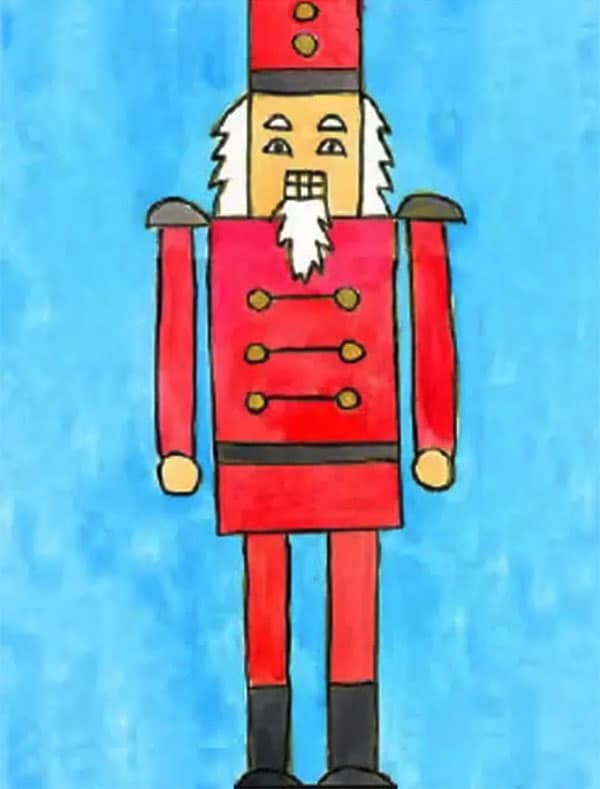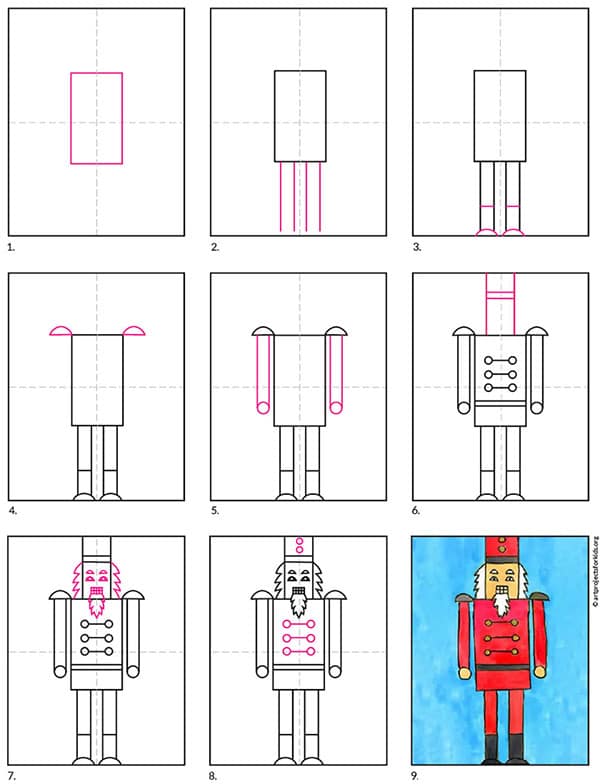 How to Draw a Fancy Nutcracker
Use the Button below to Download a PDF Tutorial
How to Draw a Giant Christmas Nutcracker
Making a giant nutcracker drawing, step by step, is so much easier when you can follow a diagram that shows you how to fill any size paper you might have.
Hand drawn decorations can add a special touch to any event during the holidays, but giant ones that line a hall with lots of festive color? And cost just pennies? Those can be truly special.
Now, even if you're not the artsy type, you can sketch out a giant nutcracker drawing, no matter what size of paper you have, with the help of my downloadable diagram. It turns out that the key to drawing a well proportioned nutcracker is to first fold your paper to create lots of guidelines to follow. Then, if sketch to make your nutcracker's shoulders, belt and knees all fall on those specified guidelines, your nutcracker is bound to have a nicely proportioned body.
Sketch your nutcracker lightly in pencil, trace it with a thick black marker, and then start coloring. My samples shown here took about one 45 minute class to color, with about 6 students working on each.
Use the Button below to Download a PDF Tutorial
Student Artwork
6 to 9year-olds creating a 10 ft tall Nutcracker drawing

Lions Gate Community Centre in North Vancouver, British Columbia, Canada
Materials
Scissors
White Kraft Paper, 36″ wide
Black marker, thick chisel tip
Crayons
Directions
1. Cut a sheet of white kraft paper 60" long.
2. Crease the sheet in half lengthwise and cut to make a panel that is 18" x 60".
3. Fold one of the new sheets in half lengthwise. Fold it in half three times, the long way and the crease edges. Unfold so that you end up with a grid that is 2 panels wide by 8 panels tall.
4. Sketch the nutcracker according to the diagram. The fold lines will help you make a well proportioned body.
5. Trace the drawing with a thick marker and color heavily with crayons.
More Christmas Drawing Projects