Here's one way to draw a poinsettia, with a step-by-step tutorial. Once you see the formula it follows, it's easy to draw more.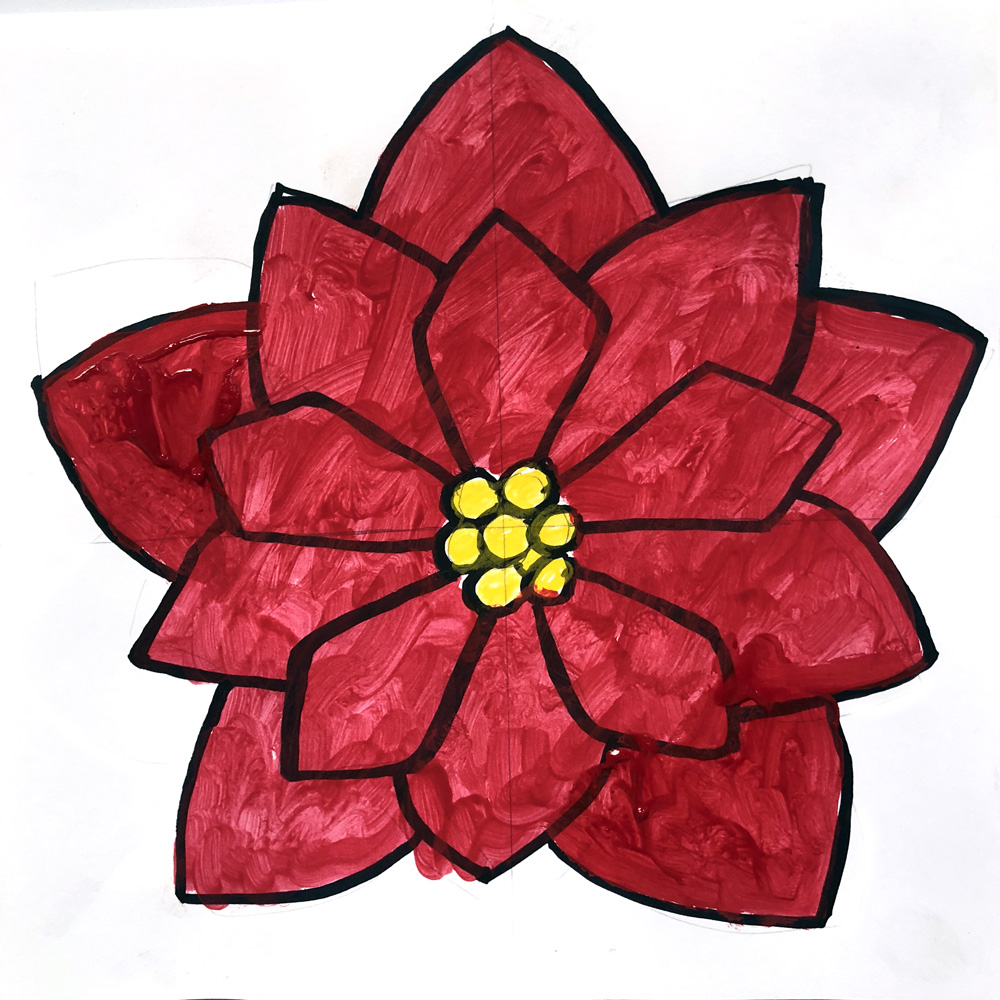 LIKE THIS PROJECT?
There are many more holiday tutorials in my "Christmas Drawing" ebook. It's full of easy Christmas drawing projects and that would make a very special homemade card or holiday art to frame. Includes a step by step tutorial for each. Just click on the link or binder to learn more.
Included are a: Ballerina, Candle, Cardinal, Christmas Elf, Christmas Tree, Elf Legs, Gingerbread Cookie, Gingerbread House, Grinch Baby, Grinch Face, Nutcracker, Penguin, Pickup Truck, Poinsettia, Rudolph, Santa, Santa Face, Sleigh, Snowman, Stockings, Sweater, Teddy Bear, Town, Toy Soldier.
Draw them small, for a holiday card, or large, for handmade decorations. Either way, they'll add some lovely red color to your holidays.
An additional tip? Add a bit of really simple math and have all the students measure and draw center lines before they start drawing. It really helps with the radial symmetry, and offers a mini lesson in using a ruler too.
MATERIALS
Heavy drawing paper, cut to 12″ x 12″ or some other size square
Ruler
Crayons OR
*The above product links are a referral. If you click through and take action, I'll be compensated a small amount, at no extra expense to you.
DIRECTIONS
Time needed: 1 hour.
How to draw a Poinsettia
Make fold lines. Draw small circles.

Draw two petal sides.

Finish petal top.

Draw four petal sides.

Finish petal tops.

Draw four petal sides.

Finish petal tops.

Add five petals in between.

Draw 5 more petals, in between.

Add center lines in all petals.

Add green leaves.

Trace with marker and color or paint.