This tutorial for how to draw aliens encourages a mixing of eyes, hands and feet. After all, who really knows what an alien might look like?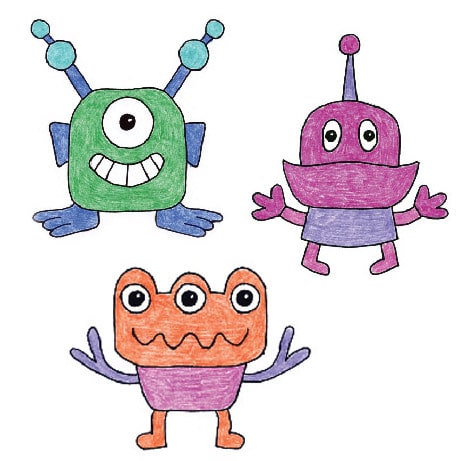 Young artists will enjoy this project when they realized that aliens can be whatever they imagine them to look like. One arm? One eye? One antennae? The sky's the limit once you decide to use your imagination.
You can learn how to draw all three of this aliens with my print friendly PDF tutorial, simply by joining my email list. It's also a great way to find out about my new projects and special promotions.
MATERIALS
Drawing paper
Black Sharpie marker, fine tip
Crayons
DIRECTIONS
Time needed: 30 minutes.
How to draw Aliens
Draw body, eye, ears and mouth.

Add antennae and feet.

Trace and color.

Draw body, head and eyes.

Add arms, legs and antennae.

Trace and color.

Draw body, head, eyes and mouth.

Add arms and legs.

Trace and color.