Easy How to Draw a Hot Air Balloon Tutorial and Hot Air Balloon Coloring Page
Below you'll find an easy step-by-step tutorial for how to draw a Hot Air Balloon and a Hot Air Balloon Coloring Page. For more of a challenge, try drawing three of them!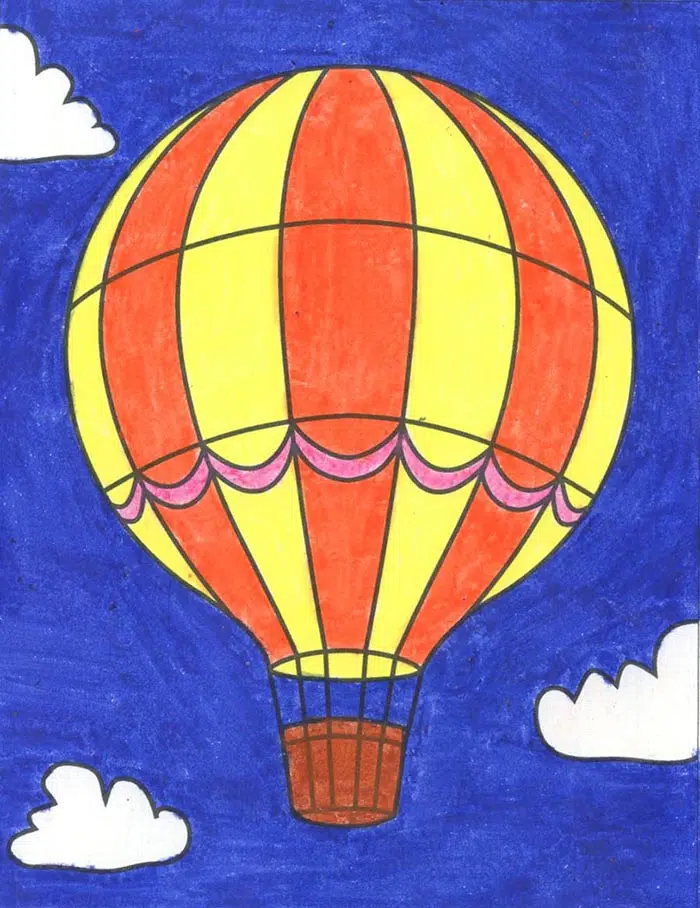 Learning how to draw a hot air balloon is an easy way to show students how, with just a few lines, to make a flat circle look like a round ball. The vertical lines that go from the top to the bottom do the trick, and when curved and spread out, make the flat circle SHAPE suddenly looks like it has FORM. Bright colors in those stripes will enhance the look even more.
Anyone who has seen photos of hot air balloon festivals know that they are made with many, many different designs on them, so students should feel free to custom design their own. I just recommend that they start with the stripes shown here to first get their 3D look in place, and then take off from there.
Use Button below to download a PDF Tutorial
Easy Hot Air Balloon Coloring Page
Draw Realistic Hot Air Balloons
Three Balloons Coloring Page
Drawing Materials
Drawing Paper. This is the good stuff you can buy in bulk for a good price.
Pencils. I like how this brand always makes nice dark lines.
Black Marker. A permanent marker will give you a dark black color.
Note: All of the above are Amazon affiliate links.
Step by Step Directions
Time needed: 25 minutes
How to draw an Easy Hot Air Balloon
Draw (or trace) a large circle.

Add the balloon opening at the bottom.

Attach a basket.

Draw a curved vertical stripe.

Draw another stripe on either side.

Add two curved horizontal lines.

Add decorative scallops.

Finish the basket and add a sky.

Trace with marker and color.
More Transportation Drawing Ideas