Inside you'll find an easy step-by-step How to Draw Santa Baby Yoda Tutorial and Santa Baby Yoda Coloring Page. How cute of a Christmas card would that make?
Santa Baby Yoda Drawing
It's always fun to add a little pop culture to your classroom drawing projects. Now students can have a little help if they'd like to learn how to draw Santa Baby Yoda. He does already wear a robe that is easy to give some festive colors, and a cute Santa hat kind of finishes off the look.
Baby Yoda, the apparent star of the new Disney Mandalorian series, has lots of tutorials around on the internet these days. I created this one with a few of the features I know help students out when they are just learning how to draw.
He is very symmetrical, aside from the Santa hat. The eyes and ears and hands all match.
He is as large as he can be without going off the edges of the paper. It's easier to draw those detailed eyes when they are not on the tiny side.
There is a background that tells a bit more about who he is. The rocks and stars say it all, without taking a lot of extra time to complete.
That's it! Here's hoping that you this new tutorial will make you one of the coolest teachers on the block!
Use the Button below to download a PDF Tutorial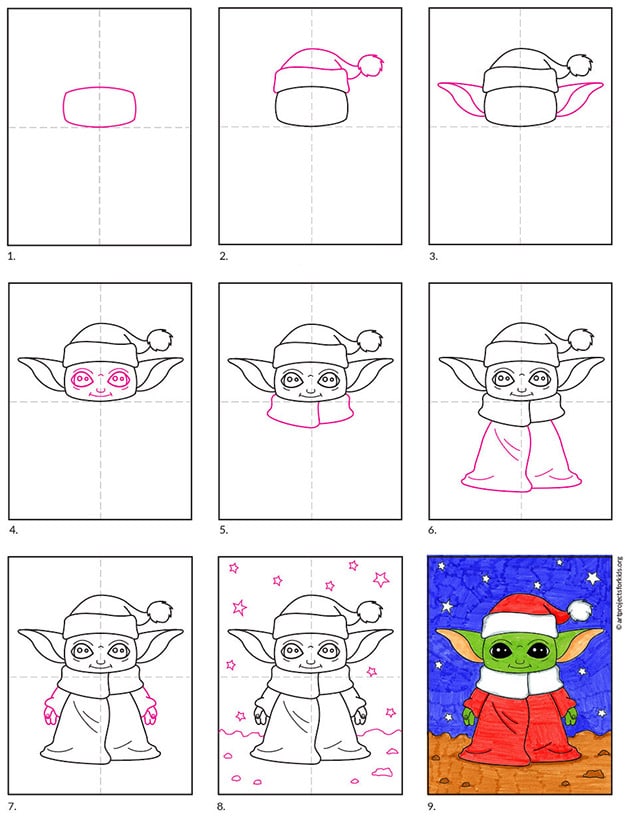 Save me to your Pinterest Board!
Santa Baby Yoda Coloring Page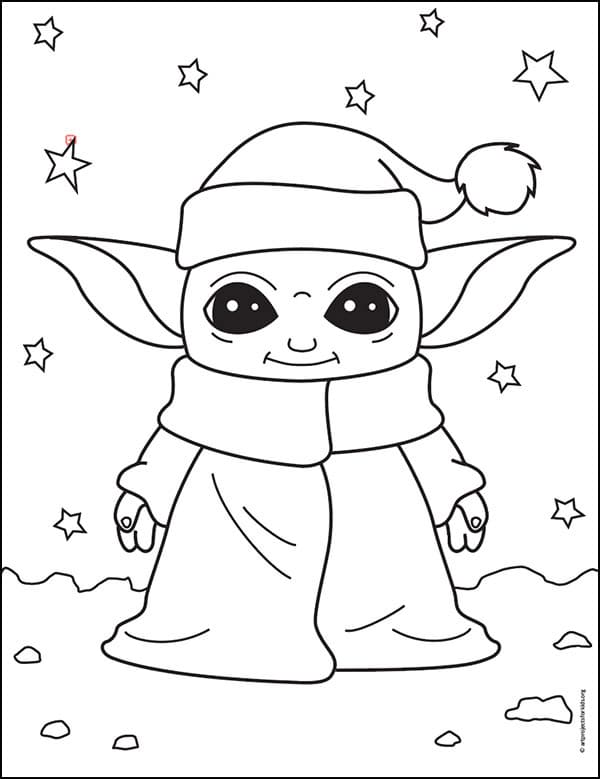 Materials for Santa Baby Yoda Drawing
Step by Step Directions for Santa Baby Yoda Drawing
Time needed: 50 minutes.
How to Draw Santa Baby Yoda
Draw the head.

Add a hat on top of the head.

Draw two matching ears.

Add the eyes, nose and mouth.

Draw the collar of the coat.

Add the robe, leaving space for the arms.

Draw two arms with fingers below.

Add a space background.

Trace with a marker and color.
More Cartoon Character Projects