Make your black history art projects about more than just coloring in someone else's drawing. Have your students learn to draw people like W.H. Johnson did.
William H. Johnson was a very talented painter whose work, sadly only came to be known after he had passed away. He had a way of drawing people with a simplicity that many have come to deeply admire.
Drawing in the style of Mr. Johnson is a great way for young artists to try out his ideas. All of his paintings were very flat and colorful, which make them easy to imitate. There's no need think about perspective, and all the shapes like trees and fences are reduced to just flat versions of themselves.
Teachers might also point out that the hands of the men and the women were consistently large in all Mr. Johnson's work. It probably was to portray the strength that he saw in them.
This tutorial is designed to help students draw either a man, or a woman, or both, in William H. Johnson's style. In doing so, they can have a deeper appreciation for his work and maybe adapt some of his ideas to their own art as well.
FOLLOW UP PROJECT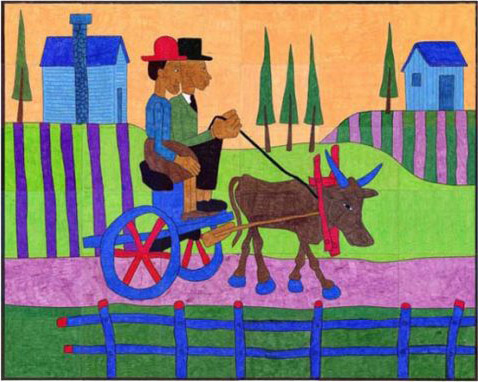 Now it's easy to make a classroom mural to celebrate the creative work of artist William H. Johnson.
All you need to do is purchase my William H. Johnson template from my PDF Shop, have each student color a page, and then tape or glue it back together according to included directions.
It makes a special work of art for your classroom, and because everyone takes part, a collaborative experience as well.
MATERIALS
Drawing paper
Black marker
Stabilo markers or crayons
DIRECTIONS
Time needed: 1 hour.
Draw like the artist William H. Johnson
WOMAN: Draw the head and neck.

Fill in the face and hair.

Start the shoulders.

Add arms and large hands below.

Draw a simple background.

Trace and color with markers.

MAN: Start the head and neck.

Fill in the features. Add a hat.

Draw the shoulders and arms.

Finish the pants. Add buttons.

Draw a simple background.

Trace and color with markers.