Here's a baby fox drawing easy enough for even kindergarteners to try out. Careful coloring on black paper will give him a bold look.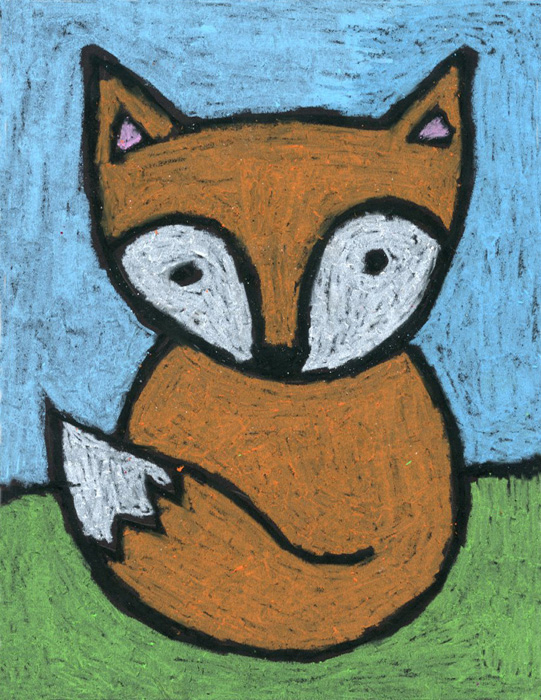 MATERIALS
Black construction paper
Oil pastels
DIRECTIONS
Time needed: 45 minutes.
How to Draw a Baby Fox
Draw a large U.

Connect the top with ears.

Draw a nose.

Add curved lines and eyes.

Start the shoulders.

Continue the bottom line.

Finish the tail.

Add tail line, ear details and horizon line.

Trace with black pastel and color.
Paint a Fox on Newsprint
Sometimes I find fun art projects for kids that call for supplies that aren't easy to replicate for lots of students. The answer for newsprint? Print your own.
This fox painting looks like students recycled newspaper for the background of a painting, but actually one sheet was scanned and printed for all of them. No need to make your own, just download my file in the link below.

MATERIALS
• Download Newspaper Background file
• Card stock paper, cream
• Sharpie marker, chisel tip
• Tempera paint
DIRECTIONS
1. View my file above and drag a copy to your desktop. Print the file on sheets of manila card stock paper to get that old paper look.
2. Students draw a fox in the style of artist jomama. Start with a U for the head, then finish the face, and then a large swoop for the tail and body.
3. Trace the drawing with a permanent marker. The thicker the marker, the better. A bold black link is needs to stand out from the print.
4. This is a good time to learn how to make just the right shade of orange for a fox. I love how the newsprint shows through the paint and adds some extra dimension and texture.