Easy How to Draw a Poppy Tutorial and Poppy Coloring Page
Below you'll find an easy step-by-step tutorial for how to draw a Poppy and a Poppy Coloring Page, the symbol of Memorial and Remembrance Day. This lesson shows students how to draw the flower in three stages of bloom.
Drawing of a Poppy
Students that are honoring Remembrance Day in Canada, and Memorial Day in the States, now have some help in learning how to draw a poppy. It has come to symbolize both holidays.

The poppy's origin as a popular symbol of remembrance lies in the landscapes of the First World War. It began with a poem written by a World War I brigade surgeon. He was struck by the sight of the red flowers growing on a ravaged battlefield and wrote a poem about it.

The poppy continues to be sold worldwide to raise money and to remember those who lost their lives in the First World War and in the following conflicts.

A poppy flower is unique in that the petals rotate around the center. This tutorial shows students how to draw them so that they can easily add them without having to erase any overlapping lines. Less erasing always makes for a neater drawing, and brighter colors.
Why Draw with Guides?
You may have noticed that all of the tutorials on this website have a dashed vertical line and horizontal line running through the center of each step. If students make their own centered lines on their own paper, before drawing, they will have an easy reference to follow. All they need to do is fold their sheet of paper in half both ways, make a crease, and unfold. The best part is, by the time the drawing is done and colored in, the creases will have disappeared!
Join "The Daily Draw" below and get this free tutorial!
Poppy Coloring Page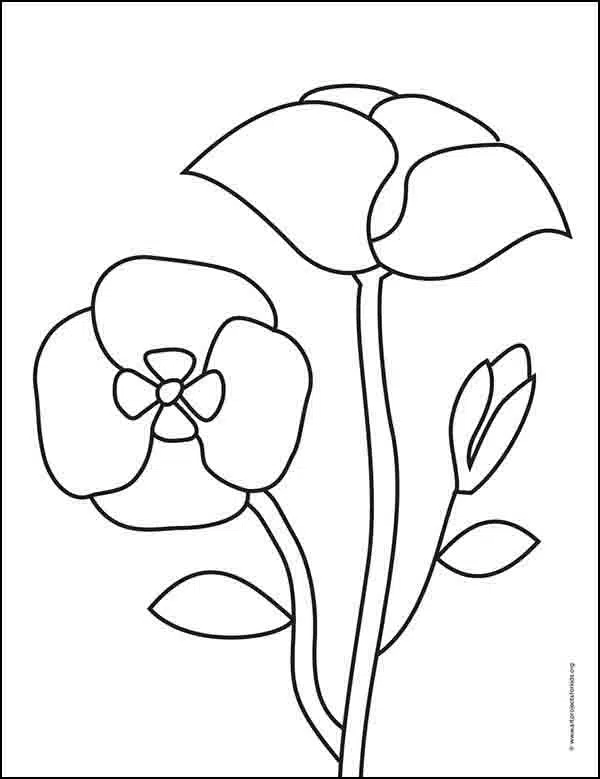 Materials for a Poppy Drawing
Drawing Paper. This is the good stuff you can buy in bulk for a good price.
Pencils. I like how this brand always makes nice dark lines.
Black Marker. A permanent marker will give you a dark black color.
Note: All of the above are Amazon affiliate links.
Step by Step Directions to Draw a Poppy
Time needed: 45 minutes
Draw a Poppy
Start by drawing the center of the poppy.

Add a petal to the right of the center.

Draw a petal on the top.

Add a petal to the left side.

Finish the bloom by drawing a petal on the bottom.

Start the side view poppy with a stem and two petals.

Add petals to the top of the that flower.

Finish drawing the stems and the leaves.

Trace the drawing with a marker and color.
Already subscribed to "The Daily Draw"?
Great, then use the download button below to get your free Cornucopia tutorial. And thanks for wanting to bring more step-by-step, no-prep art lessons to your classroom!
Draw a Poppy Plant Tutorial
More Flower Drawing Projects