Veterans Day art projects can make use of the bright, red poppy flower, which has a long history of association with this special day.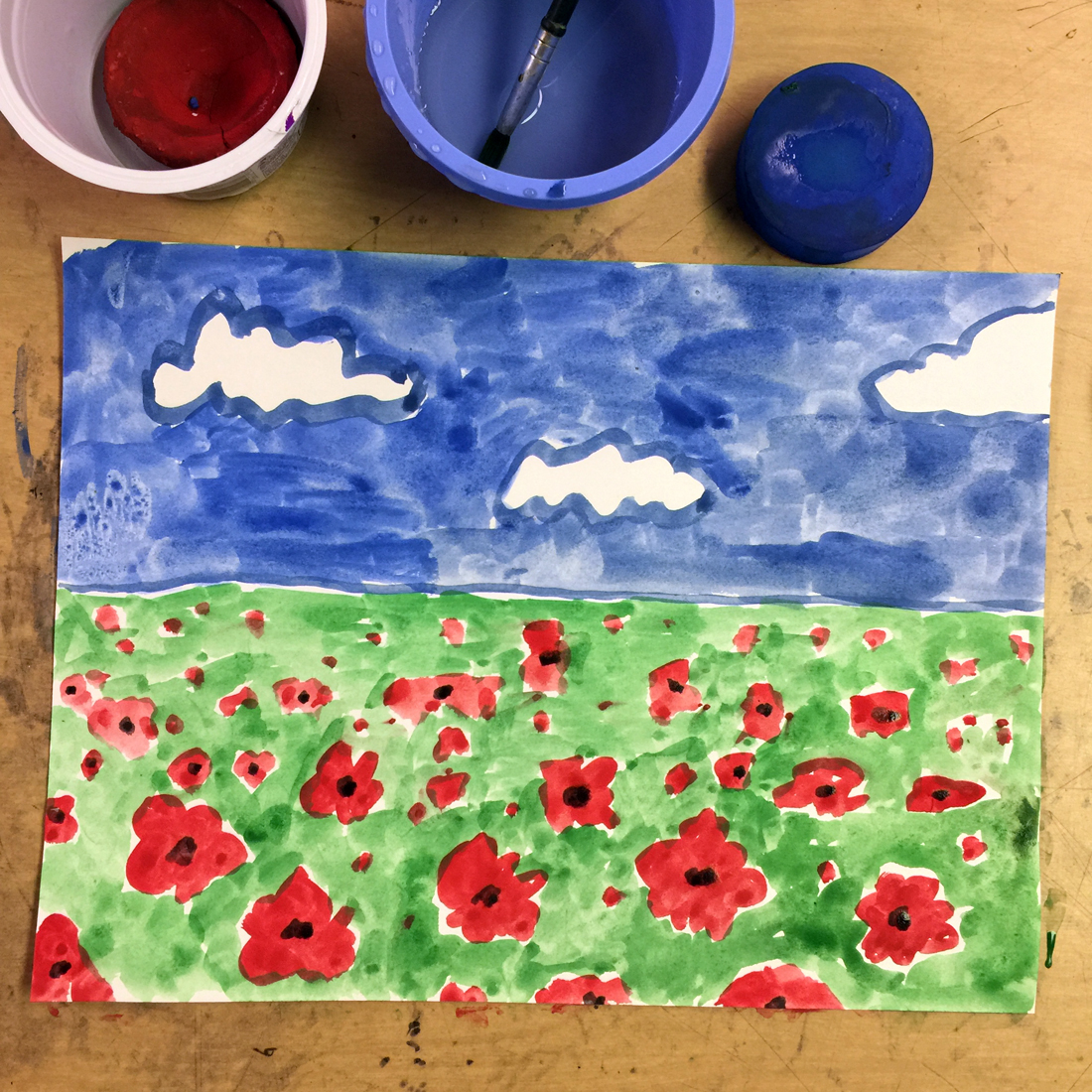 This project also gives students a little lesson in perspective. By merely changing the size of the flowers, their painting can have much more dimension to it.
MATERIALS FOR VETERANS DAY ART PROJECTS
• Multimedia paper
• Tempera paints, cake form (red, blue, green, black)*
• Water and container
• Small brush
*The above product link is a referral. If you click through and take action, I'll be compensated a small amount, at no extra expense to you.
DIRECTIONS
TIP: Students will be "drawing" with their brushes. The best way to keep colors from running together is to have students work in the recommended order listed below. It will give the poppies a few minutes to dry before painting the grass around them.
1. Using a brush, students draw and fill in flowers on the lower half of the paper, large ones at the bottom and smaller towards the middle. All roundish shapes are just fine.
2. Students use a brush to draw clouds in the sky. Fill in the area around them.
3. The green grass is filled in carefully around all the flowers.
4. Lastly, the centers of the larger flowers are added with just a dot of black paint.SaveSave
LIKE THIS PAINTING PROJECT?
You can find many more my "Botanicals, Fish & Insects" ebook located in my PDF Shop.
It's actually three books in one, with a total of 30 drawing and painting tutorials for all kinds of pretty plants, colorful fish and science-y insects.
All come with a full page sample, student tutorial, coloring page, and gray line art for tracing. Perfect for mixing a little science with your art, or art with your science.