Easy How to Draw a Poppy Field Tutorial and Poppy Coloring Page
Below you'll find an easy step-by-step tutorial for how to draw a field of poppies and a poppy coloring page. Their bright red color can make a beautiful landscape drawing.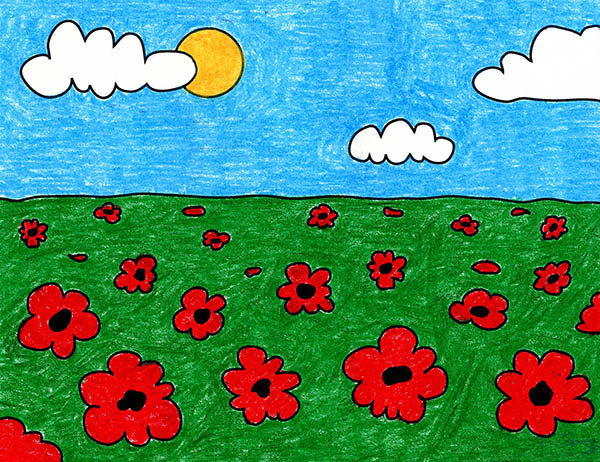 What does the poppy flower symbolize? The poppy is a common symbol that has been used to represent everything from peace to death. When used on tombstones, poppies also represent eternal sleep. Students that learn how to draw lots of pretty red poppies out in a field, can honor this symbolism and make a lovely landscape drawing as well. It is a reminder that poppies were among the first plants to bloom in the devastated battlefields of northern France and Belgium.
This tutorial shows students how they can honor the day by drawing a field of many bright red flowers. The shape is simplified for younger students so they can just concentrate on the little perspective lesson that is in play here. If they draw the biggest flowers first, in the bottom of the paper, the medium in the middle, and the smallest up near the horizon, they will have what looks like a very large field of flowers. Simple laws of perspective can add lots of space to any drawing.
Use the Button below to Download a PDF Tutorial
Poppy Field Coloring Page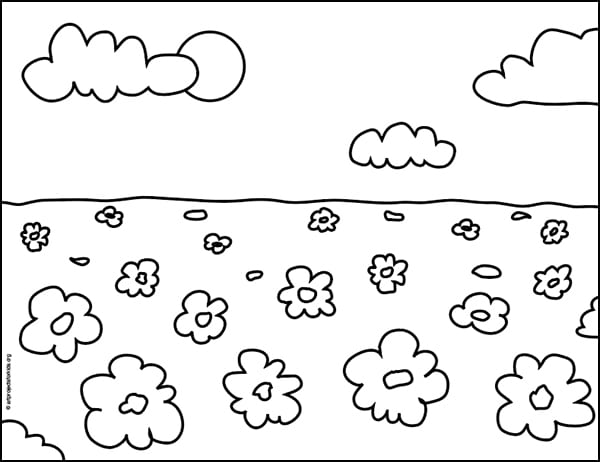 Materials for a Poppy Field Drawing
Drawing Paper. This is the good stuff you can buy in bulk for a good price.
Pencils. I like how this brand always makes nice dark lines.
Black Marker. A permanent marker will give you a dark black color.
Note: All of the above are Amazon affiliate links.
Directions to Draw Poppy Field Step by Step
Time needed: 45 minutes.
How to draw a Poppy Field
Draw a horizon line.

Draw a row of large flowers near the bottom.

Add centers to the flowers.

Draw a row of medium flowers.

Add centers to the flowers.

Fill in the rest with smaller flowers.

Add centers to some of the flowers.

Finish the sky with clouds and a sun.

Trace with a marker and color.
More Flower Projects