Easy How to Draw Harry Potter Tutorial and Harry Potter Coloring Page
Now your students can learn how to draw Harry Potter with a new step by step tutorial. His scarf, wand and owl are there, all in easy to draw form.
This how to draw Harry Potter tutorial simplifies all his details, so even younger elementary students can follow along. And if it takes pop culture to make a connection to some of the more reluctant artists in your room, why not? You just never know what might stick, once that connection is made.
Harry Potter, star of the series of books by author J. K. Rowling, is bound to be one of those classic characters that children are going to love to read about for years to come. And what better projects to draw than what many are already huge fans of?
Use the Button below to Download a PDF Tutorial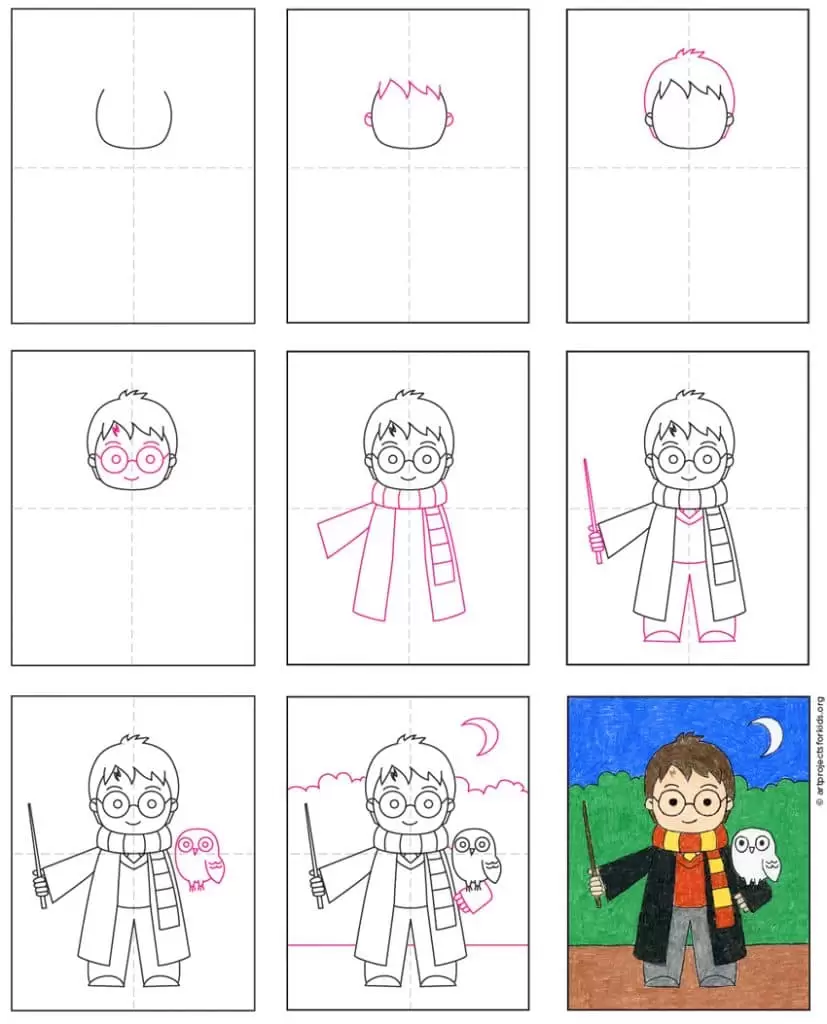 Student art
Harry Potter Coloring Page
Materials
Drawing Paper. This is the good stuff you can buy in bulk for a good price.
Pencils. I like how this brand always makes nice dark lines.
Black Marker. A permanent marker will give you a dark black color.
Note: All of the above are Amazon affiliate links.
Step by Step Directions
Time needed: 45 minutes
How to Draw Harry Potter
Start the head.

Add bangs on top, and two ears.

Draw the outer hair line.

Add the face (with scar!) as shown.

Draw the scarf and coat.

Add the hand, wand, shirt and pants.

Draw a simple owl.

Add an arm underneath, and bushes and moon behind.

Trace with a marker and color.
More Pop Culture Drawing Projects