A cute snowman drawing doesn't have to be small and very flat looking. In fact, with just a little help, it can fill your page look round and dimensional look.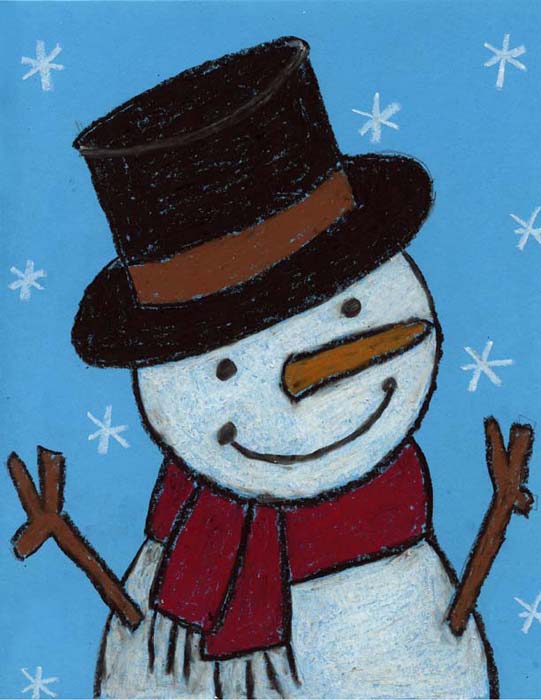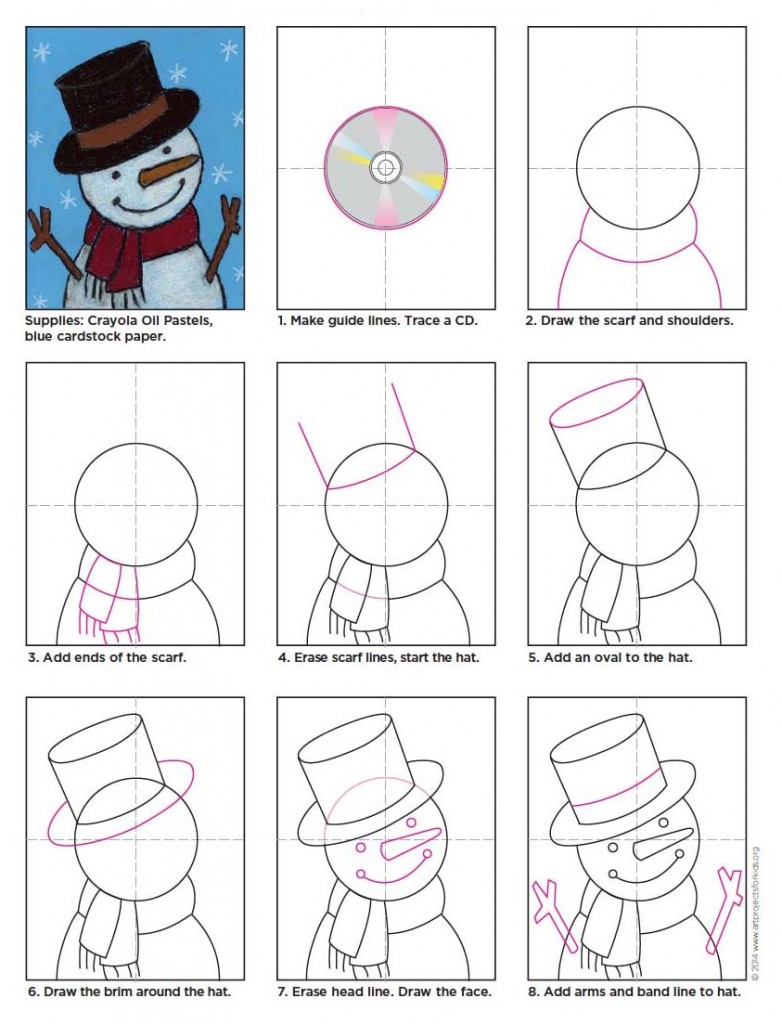 To get yourself off to a quick start, trace an old CD to get a nice round circle. It happens to be the perfect size for your average sheet of drawing paper. It's hard to draw a cute smiling face if you don't have enough room for it, right?
After the head and body are drawn, add the snowman accessories with lots of curves and ovals as shown in my tutorial. Doing so will make the top hat look like a tube and the scarf look like something that is wrapped around his body, as opposed to just stuck in front.
If those dimensional drawing tips came easy to you, try adding some shadows on the sides and edges. You might be surprised just how round your snowman will bedcome.
MATERIALS FOR A CUTE SNOWMAN DRAWING
• Cute Snowman Drawing Tutorial
• Colored cardstock paper*
• Old CD, for tracing
• Oil pastels*
*The above product link is a referral. If you click through and take action, I'll be compensated a small amount, at no extra expense to you.
LOOKING FOR MORE WINTER PROJECTS?
There are many more fun and easy drawing tutorials like this one, in my "Christmas Drawing" ebook in my PDF Shop.
All have simple step by step tutorials to help beginner artists see where to start and how to finish each drawing. Use it for Christmas classroom projects or special homemade cards for gifts or holiday framing. Just click on the book or title to learn more.
DIRECTIONS
PREP: Print a color tutorial for students to share.
1. Start the snowman drawing by tracing a CD in the middle of the paper.
2. Follow the tutorial to draw the rest.
3. Color with oil pastels if working on colored paper, or crayons if you are not.
4. Draw little snowflakes around the outside of the snowman.