Easy How to Draw Ice Cream Tutorial and Ice Cream Coloring Page
Learn how to draw ice cream with an easy step by step tutorial. A soft serve with a twist makes a really pretty summer drawing.
Ever wonder where soft serve ice cream came from? There are several businesses that claim to have invented it, and here is just one example.
It was Memorial Day in 1934, and Tom Carvel (the founder of Carvel brand) found his ice cream van had a punctured tire. He pulled his truck into parking area and started selling his melting ice creams to all the vacationers. He sold out within 2 days. He quickly decided that selling soft serve desserts in one location was a better way to go.
There are a few others that claim to be the first, including Dairy Queen and even Margaret Thatcher, of all people. A quick Google search will explain more.
These days, the classic twisted soft serve in a cone is what most children fondly remember about summer, and with a little help, they can draw one that looks a lot like the real thing. This tutorial shares how a little curve on the cone can make it look more round, and a few diagonal lines can add the familiar texture. A few well-placed twist lines in the ice cream itself will turn it into two flavors, which they can color as they wish.
Makes for a lovely work of art that will never melt!
Use the Button below to Download a PDF Tutorial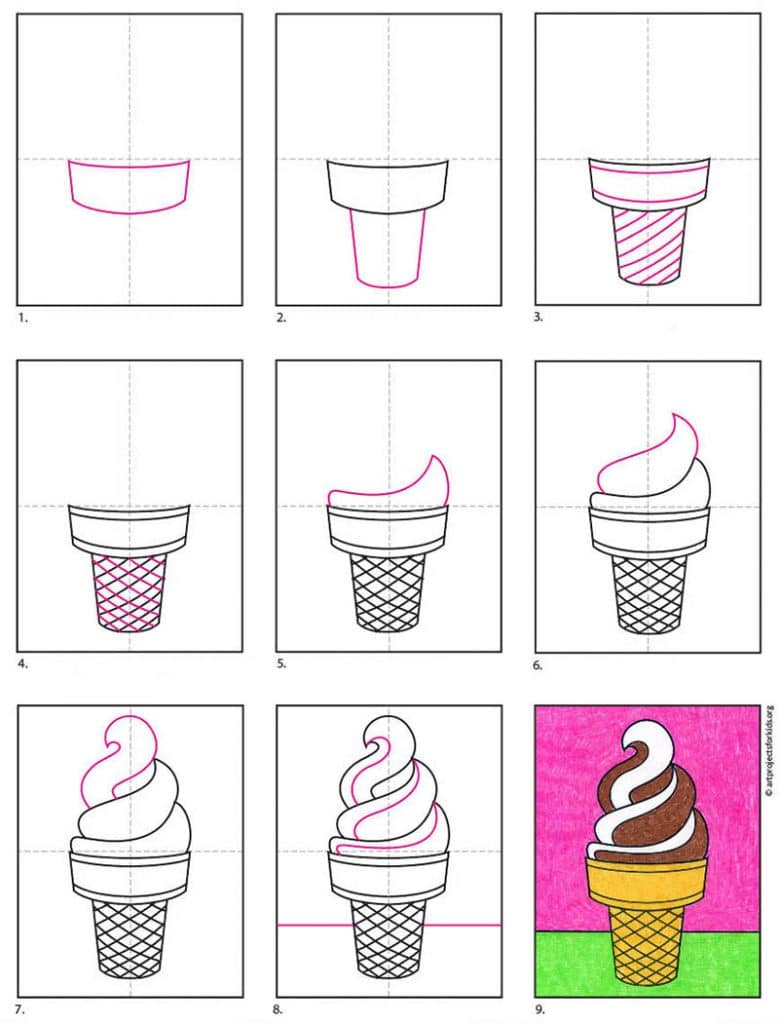 Ice Cream Coloring Page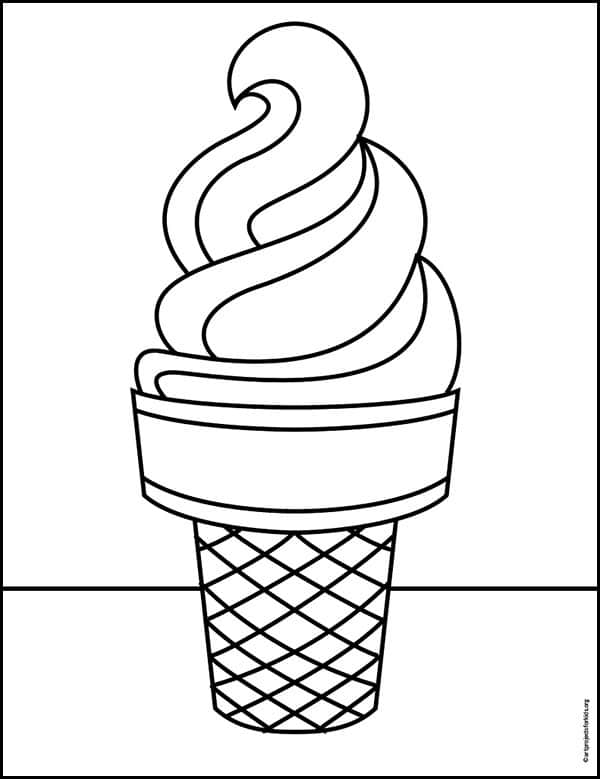 Materials for How to Draw Ice Cream
Directions for How to Draw Ice Cream
Time needed: 35 minutes.
How to Draw Ice Cream
Draw the curved cone rim.

Add the bottom below.

Draw rim lines and diagonal lines below.

Add diagonal lines in opposite direction.

Draw the first ice cream layer.

Add another ice cream layer.

Add a third ice cream twist on top.

Draw inside swirl lines in each.

Trace with a marker and color.
More Fun Food to Draw