Here's one way to draw a raccoon with some very easy and simple shapes. Color it well so those bandit eyes really stand out.
Be sure to fold the paper in half twice to get those center guidelines. Making the bottom of the head sit on the center line will guarantee a racoon that fills the paper.
If you like this tutorial, there are many more like it in my "Draw Animals" eBook, located in my PDF Shop.
MATERIALS
Drawing paper

Black marker
*The above product link is a referral. If you click through and take action, I'll be compensated a small amount, at no extra expense to you.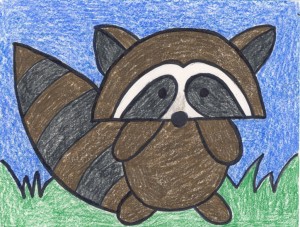 DIRECTIONS
Prep: Print tutorial for each student.
Draw guide lines on paper or fold in half to make creases.
Follow the tutorial to draw the raccoon in pencil.
Trace the raccoon with a black marker.
Color the raccoon carefully with crayons.