Easy How to Draw a Dragon Sitting Tutorial and Dragon Sitting Coloring Page
Below you'll find an easy step-by-step tutorial for how to draw a Dragon Sitting and a Dragon Coloring Page. It has lots of fun details that dragon fans are sure to love.
Now students have some help in learning how to draw a dragon sitting and showing off all its cool details. This tutorial shows how to start with a bean-shaped belly and then gradually add all the details like the legs, spiked head and tail. It may look pretty complex at first, but becomes doable when drawn step by step.
For some extra fun, this finished example shows how to add a bit of a shadow to make the dragon look even more dimensional. To get this look, pencil crayons are recommended. A light color like gold or yellow, with a darker brown added to the top will do the trick.
Use the Button below to download a PDF Tutorial
Dragon Sitting Coloring Page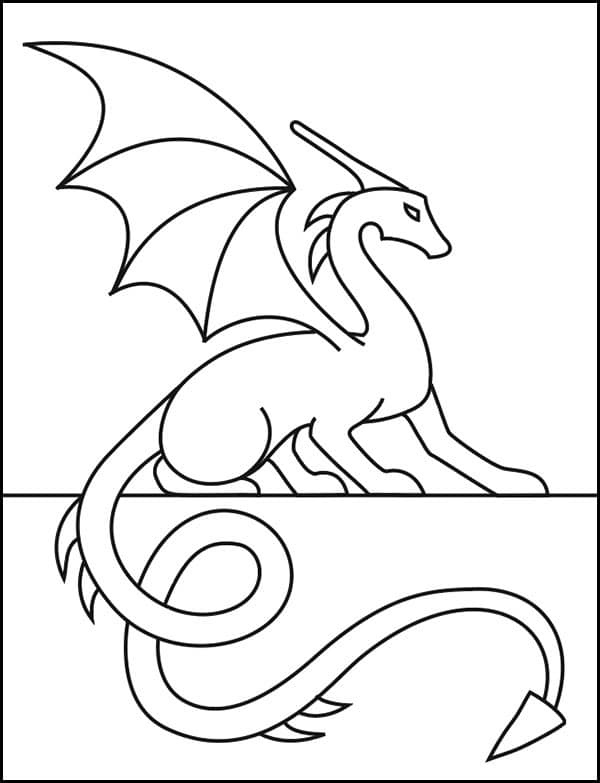 Materials
Drawing Paper. This is the good stuff you can buy in bulk for a good price.
Pencils. I like how this brand always makes nice dark lines.
Black Marker. A permanent marker will give you a dark black color.
Note: All of the above are Amazon affiliate links.
Directions
Time needed: 1 hour.
Draw a Dragon Sitting Down
Draw a line and a jelly bean shape.

Draw two front legs.

Draw the two back legs.

Add the curvy neck.

Draw the face, horn, spikes. Erase the extra line.

Draw a long tail with spikes.

Draw the spines of the wing.

Connect the spines and erase small line.

Trace with a marker and color.
More Dragons to Draw