Easy Christmas Card Ideas: A Cut and Tear Candle Art Project
Below you'll find one of my favorite easy Christmas card ideas for kids. Just change the colors of the candles and the background and it works for all kinds of celebrations, even birthdays!
Cut and Tear Candle Card
Directions Candle Cards
When it comes to Christmas card ideas for kids that are inclusive to all your students this time of year, working with a candle theme is a smart way to go. They are at the heart of so many celebrations such as Christmas, Hanukkah and Kwanzaa. This was my go to project for kinders every year as they results were always very pretty and colorful, no matter what skill level different students were at. It also helped that it could easily be done in one art class, given that time is often short during the holidays.
This collage project also provides some real small motor skill practice as the candles and flame are torn from paper, and their surrounding white "light" is cut. Tearing the paper is usually new for students, but given that they only need to do a couple of straight lines, not too difficult. The contrast of the two edges makes for an interesting collage.
Cut & Tear Candle Card PDF Tutorial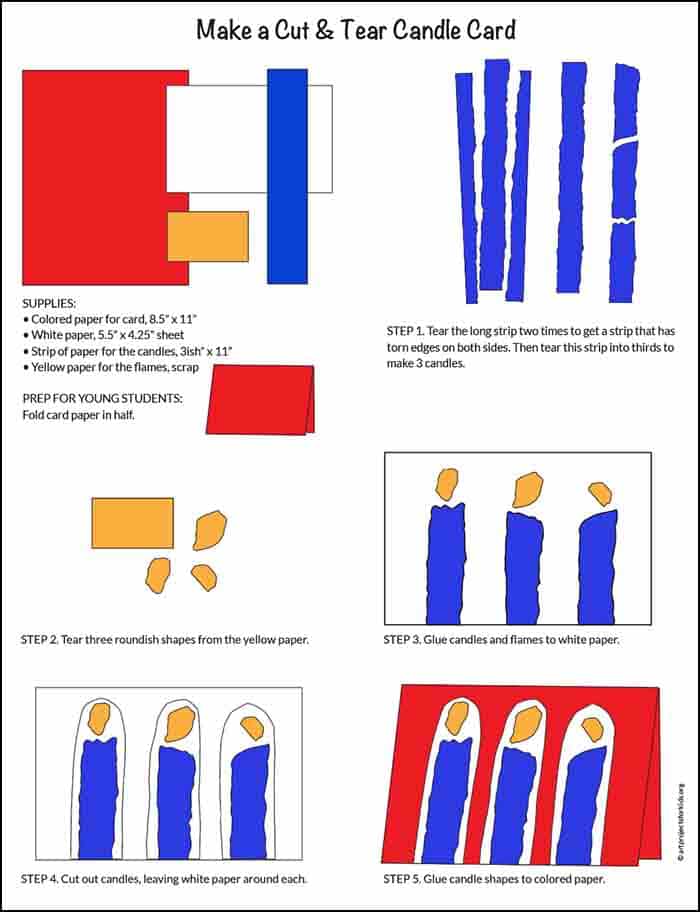 Materials for Christmas Card
• Card stock paper, assorted colors
• White card stock paper
• Scissors
• Glue stick
Directions for Christmas Card
Time needed: 45 minutes.
How to Make a Christmas Card Collage
 Tear a 3″ x 11″ strip of cardstock into 3 strips.
Tear middle one into 3 pieces.
 

Glue to a 8.5″ x 5.5″ piece of white paper.

Tear yellow flames and add above each. Cut out with a scissors, leaving a white edge.

Glue to the front of a folded sheet of cardstock paper. 
More Christmas Card Ideas for Kids