Learn how to draw Pumpkin Pie with this easy step by step tutorial. A cut out slice lets you see all of its yummy colors!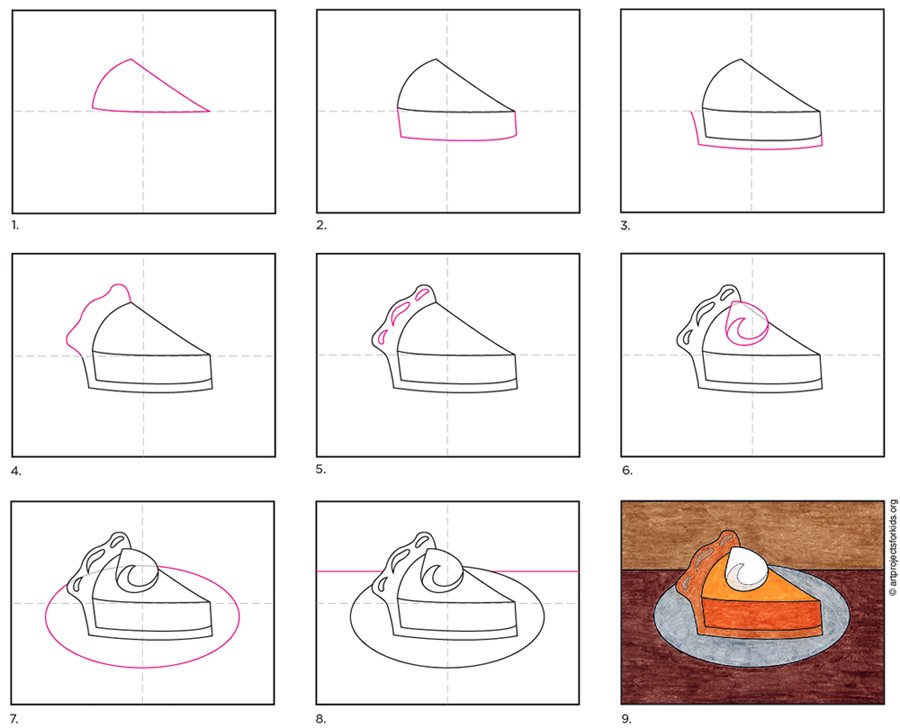 This tutorial will show students how to draw pumpkin pie, make it look dimensional, and then add a pretty dollop of whipped cream on top. The side view reveals a peek at the inside filling, and an easy way to add a bit of a shadow too.
The drawing sample above uses different crayon colors to show shadows, but students could always use different pressure with one crayon to make the difference too. A golden brown crayon for the crust, that has darker ridges on top, and a pumpkin orange filling, that has a darker side (more pressure) would work just fine too.
There aren't many foods more symbolic of Thanksgiving than pumpkin pie. The built in fall colors just make it the prettiest ending to a special holiday meal.
MATERIALS
Drawing paper
Black marker
Crayons
DIRECTIONS
Time needed: 30 minutes.
How to Draw Pumpkin Pie
Start the top of the pie with a triangle.

Add a rectangle shaped side.

Start the bottom of the crust.

Finish with the top of the crust.

Add bump shapes to the crust.

Draw whip cream and erase lines inside.

Draw an oval plate in the background.

Finish with table line.

Trace with marker and color.
MORE FOOD DRAWING PROJECTS