Pumpkin art projects teach valuable lessons, such as symmetry and positive / negative shapes, AND still make a very fun art for Halloween.

This project requires students to flip and glue down their cut out shapes to mirror the other side. You can't get more literal than that as a definition of symmetry.
MATERIALS
*The above product links are referrals. If you click through and take action, I'll be compensated a small amount, at no extra expense to you.
The steps to making this pumpkin are pretty basic, but it really helps to try to explain it in clear, basic steps. You can see how I diagrammed all the steps on my front board in a photo at the end of this post.
Shown here is the half sheet of orange paper, and full sheet of black paper that each student needs to start. One cool tip to share is that there will be no waste when they are done. Everything that is going to be cut out is going to be used!
STEP ONE: Students draw HALF a face on the orange sheet of paper.
Remind them before, during and after drawing to make their pumpkins LARGE and SIMPLE. (Tiny and complicated will be a bear to cut out.)
STEP TWO: Students cut out the outside of the orange half of the pumpkin.
At this point, it helps to glue the "negative" orange shape down so it doesn't move while creating the other side.
STEP THREE: The mouth and eye are cut out of the orange half of the pumpkin.
SUPER IMPORTANT TIPS: The shapes need to be cut out as ONE piece, as they are going to be used for the other side. Cutting things out in small pieces will create a puzzle that can be put back together, but takes more time. The best way to cut out the eye is to just make a slit from the side and then cut out the triangle. When the paper is glued down, the slit will barely show.
The orange half of the pumpkin and mouth are flopped to begin to line up with the other side.
STEP FOUR: The shapes are all lined up as shown, and glued in place. As shown here, a simple and basic face will make quite a bold image.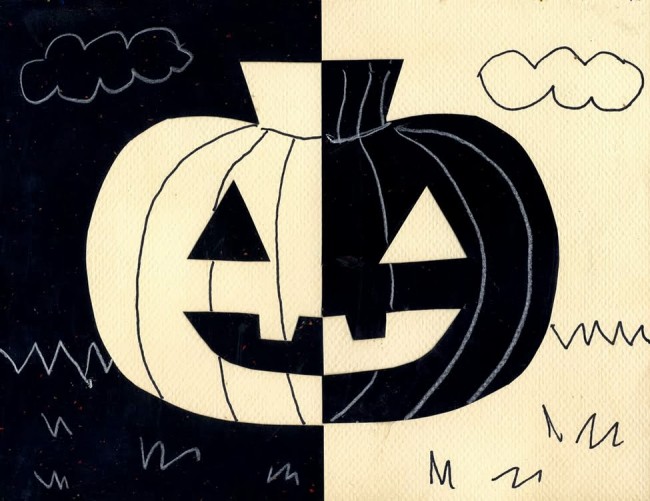 PROJECT VARIATIONS
If your older students can do the initial cutting and gluing without a lot of struggle, try continuing the positive / negative theme a bit further and have them add details on either side with black marker, and a silver metallic marker (which will look pretty white without the expense of a white paint marker.)
Here is one way to diagram out the project on your board. It takes a few minutes of prep time, but will save you LOTS of energy if you have many of students you'd like to share this with. I also think it helps those that need more visual directions.
LIKING THIS HALLOWEEN PROJECT?
Well, you might want to know that there a lot more fun and easy Halloween projects in my HALLOWEEN DRAWING ebook. It contains 25 brand new tutorials that first timers can try out to draw new shapes, and the more experienced artists can use as a starting point before adding their own twists, and details, and shadows.
Each project includes easy to follow step-by-step tutorial, a full size line drawing for reference, and finished color sample. Just click on the title or book to learn more.
.
Save